Two important bills – #1221 which prohibits the use of hounds to chase bears and bobcats and #1480, which protects wildlife (plus family pets) from cruel traps – are on Governor Jerry Brown's desk. He has had them a week and has until the end of September to sign them or veto them.
It's time to call, write, fax or email.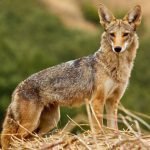 Ways to contact:
1) Call: Monday through Friday, 9 am to 5 you can call Governor Jerry Brown's office, phone # 916-445-2841. When prompted, you hit 6 to talk to a representative and all you have to say is that you support these and hope that the governor will sign them into law.
2) Fax a letter to 916-558-3160. Like above, this can be very simple – just say that you support these bills (say a reason if you like) and you hope that the Governor will sign them into law. A simple paragraph will do. Remember, a pile of paper in the inbox has a lot more impact than a computer screen full of emails.
3) Send an email. Click here for the website link:
Or here it is: http://gov.ca.gov/m_contact.php
Many organizations, including Project Coyote which I have written about, have spent numerous hours working to get these bills. With a singe swipe of his pen, the Governor can undo all this work – or save thousands of animals a year.
Here is what I sent via fax and through email:
Dear Governor Brown:
Please sign SB 1480 and SB 1221
I'm a science writer and writer and a California resident who has written about wildlife interaction issues after doing some research on the issues. I am so glad to see two good bills before us. And so I urge you as resident to sign two bills before you.
SB 1221 would prohibit cruel use of dogs to chase wildlife before extermination. SB 1480 is a common-sense bill that will protect wildlife and family pets from cruel traps and will help consumers make informed choices.
Please sign both bills when they reach your desk.
Name and Address
For more info:
SB 1221 Mammals: use of dogs to pursue bears and bobcats.
SB 1480 Trapping
Project Coyote website about the bills