Gardens and the nature surrounding us certainly offers benefits to being stuck at home during this crazy coronavirus crisis. After all, our natural world proceeds as if nothing has happened.
Birds have fledged and are discovering our natives. Butterflies are migrating through and tiny lizards are joining their more seasoned brethren.
And what better platform than plants native to your area since they create the richest ecosystems. Back in December 2008 — nearing 12 years now –my husband and I replaced our front lawn in Redlands, CA with mostly California native plants. A male Anna's hummingbird we named 'Sweetie' arrived right away to claim it. And each year we marvel at the additional critters ushered in.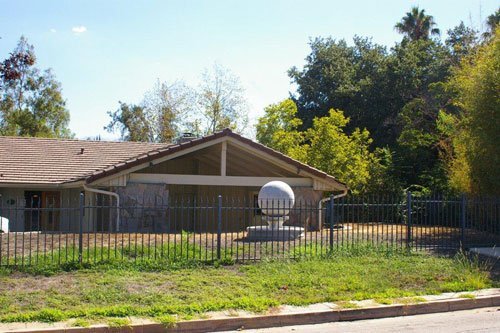 It's become such a joy, especially the last few months. Here is a sampling of our recent wildlife parade.
The birds discover our natives
I'm a pretty terrible birder, I absolutely love birds but identifying new ones and juveniles happens slooowly for me. Having a native garden, however, has made it more fun.
First, after several years of the long drought, we noticed phainopeplas, a red-eyed desert dweller that relies on mesquite mistletoe berries, exploring our yard. We loved when they started competing hard with the mockingbirds for the tasty blue berries on our Mahonia Golden Abundance plants.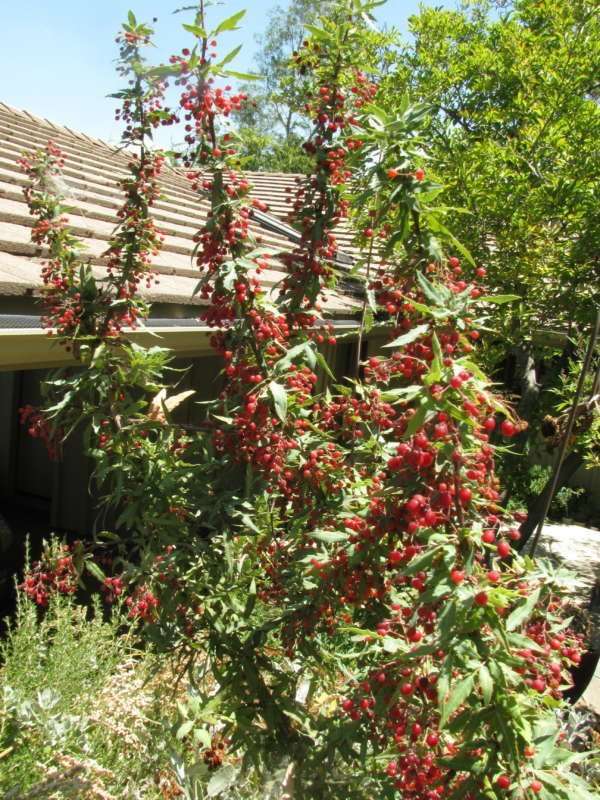 But another native we planted, Nevin's Barberry (Mahonia or Berberis nevinii) took awhile for the birds. It's a hardy shrub endemic to our area, although drought and development has removed all or nearly all (it's unclear if any remain in the wild) in our city's natural areas. Once we planted them, they took off. No wonder they belong here. But their bright ruby berries in summer just sat there. It took a couple years for the phainopeplas and soon after, other birds to discover them. Last month we were happy to see two juvenile California Scrub Jays nabbing them too.
Success! Habitat restored.
Nature In the Trees…
Similarly, we've been able to watch a parade of birds on two mature California trees. We're lucky to have a mature California Sycamore in our backyard and also our neighbor's huge California oak hybrid that hangs over our yard. Considerable research shows that natives are best for attracting birds because they host insects, especially the caterpillar, or 'sausage in a wrapper' according to ecologist Doug Tallamy.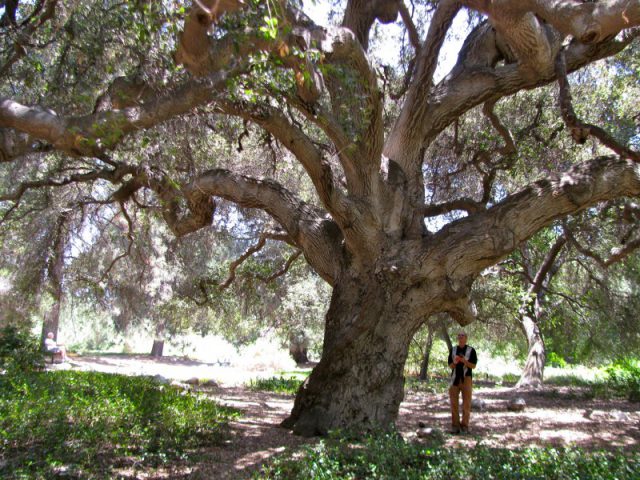 Oaks are among the most important wildlife plants. According to Tallamy, our California oaks host 270 species of caterpillars. This compares to five species in one researched species of the introduced Eucalyptus. Click here for Tallamy's fascinating webinar on restoring our yards with native plants — his talk greatly explains why we're seeing so much in our yard.)
Below are birds that were all competing for a spire on our Sycamore. All but one of these were taken in a couple days period when young were fledging.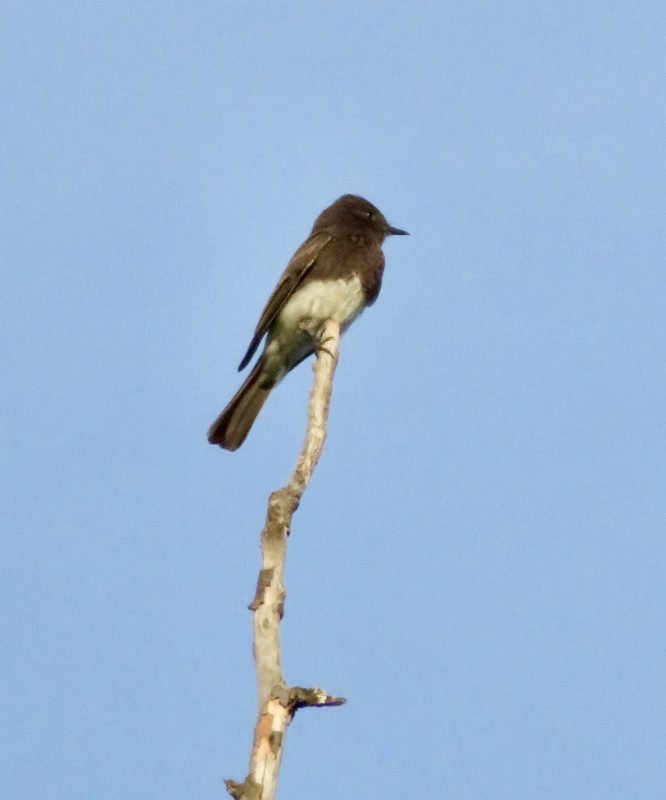 What about my area? Whatever region of the country you live in, perch near a mature native tree and I guarantee you will observe wildlife. In the Midwest and East, oaks native to your area are still number one. Or seek out trees like willows, birches, aspens or maples endemic to your area. Click here to search for habitat rich natives in your area.
Insects Galore – Vital for Habitat Gardens
For many people, desiring insects is a hard sale. But please, the chemical and garden industry's war on insects has been terribly successful. Consider these:
25% of the diet of many mammals (frogs and other amphibians, bears, foxes, raccoons) is composed of insects
Birds populations are already struggling and 96% of birds require insects for their young and also need them during migration.
Insects run the world – If insects disappeared we would lose 90% flowering plants, which in turn would collapse food webs, and our plant mass would rot because the insects that decompose are gone. Click here for more by E.O. Wilson
Only 1% of insects are serious pests. Insects are beneficial! Even the National Pesticide Information Center acknowledges this.
What has surprised us the most is the insect life our maturing natives have attracted. After all, insects have evolved with our native plants – not the ornamental plants we use from other countries. Over the years we've seen more and more beneficial insects such as important predators like the lacewings and ladybugs. Our biggest find is the hoverfly which has been shown effective against the Asian Citrus Psyllid which has rampaged citrus crops in Florida and is now entrenched in California.
The best way to illustrate what we've seen is a photo album of the beneficial insects and beautiful variety of butterflies we've seen.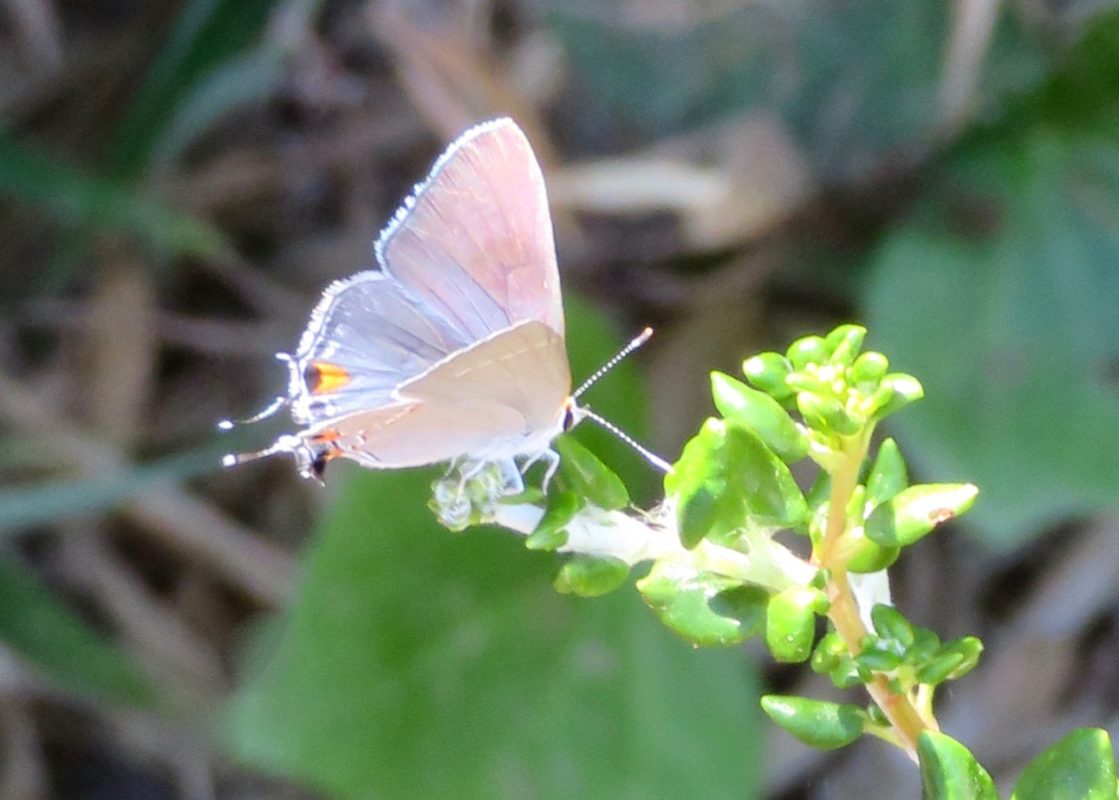 One positive result if all these beneficial insects is this: we've used a targeted pesticide only three times in 12 years on some non-native shrubs.
Calscape.org – for Californians seeking info on native plants