Note: People in areas outside So CA, please check here for California native plant sales, and elsewhere, look up your state's native plant society. Plants native to your areas make the best habitat gardens, which usher in butterflies, birds and other vital critters. 
Fall is such a great time here in Southern California, as cooler weather and expected rains make it an ideal time for gardeners to buy and plant. Although the pandemic has interrupted the annual plant sales, there's good news.  California native plants are available for online ordering and curbside pickup.
Sponsored by our local Riverside-San Bernardino Chapter of the California Native Plant Society (CNPS), the online sale begins October 9th for the public, while CNPS members can order one day early on October 8th and also receive a 10% discount.
Click here to read about the sale, where popular and easy-care native plants, wildflowers, seeds and bulbs can be ordered. And here is the plant list. See 'For more info' at the end for resources to learn more about California natives.
No-contact, curbside pickup in Redlands at The Assistencia (which has a nice display of one-year old California native landscaping) will take place on Nov 7th and 8th with pickup times scheduled upon checkout.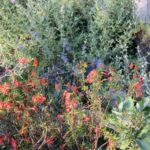 The chapter expects over 120 different plants to be available. These include different species of salvia, manzanita, ceanothus, buckwheat, and penstemon, as well as about 20 different seed packets.
But shop early, as availability is limited.
For more info: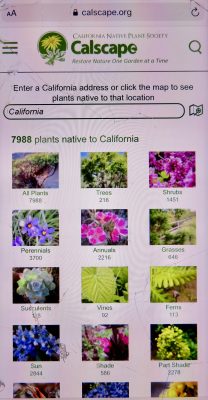 Visit www.calscape.org to learn more about California natives that will grow in your yard's particulars. Plug in your zip code, water, sun needs etc and get a list of plants.
View short videos of native landscaping by local residents (Brenda Spoelstra's brand new garden, Betty Richards' 3-5 year old garden, my 11 year old garden, Ed Harrison's eclectic yard, and the blooming spring natives at Caroline Park).
My 10 year experience in going native – provides favorites and takeaways. Please see the category 'Favorite Native Plants' for more.
Lastly, here's a gallery of favorite plants of ours – all available at the upcoming sale.