Sure, they lower water bills and usher in more wildlife, but I admit it's much easier to entice folks with the benefits of native plants in spring when the sages (salvias), wild lilacs (ceanothus) and many others are in full bloom. It's a tougher argument in the hot summer through fall months when most native plants enter their dormant, survival mode.
However, with proper plant selection, you can have a colorful yard with natives during the hot months, at the same time providing important food sources to wildlife. Antonio Sanchez, production manager at Rancho Santa Ana Botanic Garden (RSABG) in Claremont, took time from gearing up for their annual plant sale to share his passion for native plants, and provide info about three favorite plants for summer color.
"Since native plants and local wildlife have been pollinating and feeding each other for thousands of years, when they find each other in gardens it's like old friends meeting," Antonio Sanchez, RSABG
Natives for Wildlife Value
Aside from lowering your water bill, Sanchez says planting just a few natives in your garden can make a huge difference for local wildlife.
Keep it Wild
One tip Sanchez suggests for successful native (and non-native) gardening and to encourage more birds, butterflies, and native bees and insects is allowing the plants to grow and act as 'wild' as possible, while Sanchez adds, "still making your neighbors and spouse happy. And don't worry, slightly wild does not have to mean 'ugly' or 'weedy'.' While nearly all flowers provide a food source for wildlife in the form of nectar, it's important to remember that other parts of the plant are useful to wildlife.
Leave the Seeds: For example, dried flowers produce seed, which according to Sanchez "many local birds enjoy as much as an ice cream on a hot day." This would include leaving at least some dry flower stalks on plants such as Cleveland sages to provide seed for birds. On these recent hot days I've noticed many finches, bushtits and sparrows flocking to the hybrid varieties of sages on our property. If room is an issue, Salvia clevelandii 'Winnifred Gilman' is one of the compact varieties available.
Prune Naturally: This also means pruning once a year to maintain a more natural shape. "Prune your shrubs and bushes in a slightly uneven, naturalistic manner, instead of boxing them with 90 degree angles. This provides a more natural habitat for birds to sit in and provides cover from local neighborhood cats," Sanchez recommends.
Favorite Plants for Summer Color
Here are three of Sanchez' favorite natives, along with their watering needs.
St. Catherine's Lace (Eriogonum giganteum)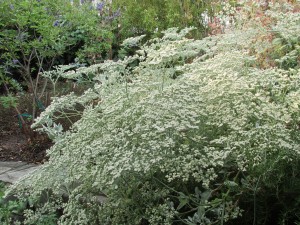 One of the prettiest and toughest native shrubs, this unique buckwheat produces 3 to 4 months of attractive flowerheads in the heat of summer "which can be used as cut flowers, and are exceptional at feeding local bees and butterflies," says Sanchez.
Water and other care: St. Catherine's Lace needs very little water, but in hot or total sun areas it responds well to weekly or bi-weekly deep soaks.
California Fuchsia (Zauschneria or Epilobium)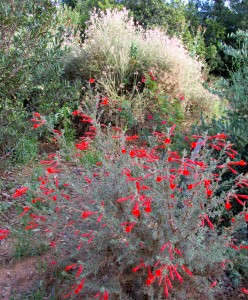 Sanchez says fuchsia with its burning orange-red flowers is one of the best natural hummingbird feeders from summer through fall. Not a true fuchsia botanically, they're available in low groundcover forms to small shrubs.
Water and other care: Fuchsias can be watered frequently, but need very little water to look its best. It does well in full sun to part shade plant. Some general nurseries offer these.
Verbena lilacina 'De la Mina'
Native to Baja California, this heavy-flowering round shrub provides nearly year-round flowers, which in turn provide nectar for local butterflies. Sanchez says it's a good container plant.
Water and other care: Frost tolerant to the low 20s, this one may need some protection from the coldest colds and the hottest heat. Provide a deep watering once to twice a month. Deadheading the flowers monthly encourages new blooms – and butterflies. Verbena 'De la Mina' benefits from a hard pruning in the wintertime to freshen up its habit. Many nurseries, general and native, carry this.
Here are photos of some other summer-color favorites of mine – for more info please see my 'favorite native plant' category of articles