Dr. Erika Nowak from Northern Arizona University commented on my last rattlesnake blog on relocating rattlesnakes, and provided the following info – so I thought I would provide it as a separate blog.
In a nutshell, if you must relocate rattlesnakes (which is preferable to the alternative of killing them) – relocating them close to their original range improves their survival chances.
 "A general rule of thumb in the southwestern U.S. that I use for larger species like western diamond-backed rattlesnakes is an average of 1 square kilometer." Erika Nowak, PhD, NAU and Colorado Plateau Research Station
From Erika Nowak:
FYI, my colleagues Brian Sullivan, Matt Kwiatkowski, and I have a paper in review right now that focuses on how to improve translocation of nuisance herps. Also look for a chapter on rattlesnake conservation (including translocation issues) in the forthcoming book Rattlesnakes of Arizona
Nowak provided the following info regarding problems with translocation of nuisance rattlesnakes:
1)  Nuisance animal translocations more problematic: Part of the problem with interpreting how successful translocation is likely to be is that people tend to confuse the results of conservation translocations for declining species, which are often well-researched and have positive outcomes, with nuisance animal translocations, which are understudied and tend to have negative outcomes.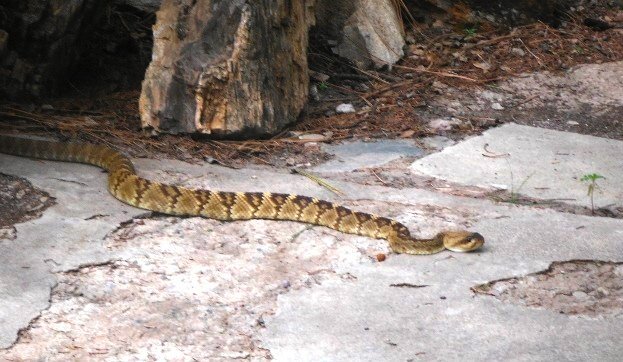 2) Best to relocate within 1 square kilometer (.6 mile): Short-distance translocation is considered to be within the rattlesnake's normal home range; a general rule of thumb in the southwestern U.S. that I use for larger species like western diamond-backed rattlesnakes is an average of 1 square kilometer.
3) Otherwise, one-half die: Long-distance translocation (outside the normal home range) is, in fact, inhumane for many adult rattlesnakes. An average of around half of these snakes will die (look for the latest numbers in that forthcoming book chapter). The reality is that in the short term, most adult rattlesnakes will try to home back to where they were moved from. This phase often results in higher than normal mortality rates from disease, predation, and being hit by cars. My research on long-distance translocation of western diamondbacks indicated that at least 57% of the translocated animals died, including two that had successfully homed.
4) Best to not use limited release sites: As Dr. Greene pointed out, dumping of hundreds of snakes per year in a few favored release sites (see chapter by  McCrystal and Ivanyi in The Biology of Rattlesnakes, 2008) may have huge impacts on survival of snakes in that area, on rattlesnake prey and predators, on disease transmission between multiple snake species, and on genetic structure of populations. However, no research that we could find has examined these kind of population-level effects.
5) Relocating breaks up family groups: New research coming out on the sociality of rattlesnakes suggests that we may be breaking up family or social groups when we move adults (again, we're not sure what the implications are, as translocation data is lacking). Social behavior of rattlesnakes will also be summarized in a chapter in Rattlesnakes of Arizona, but you can learn more now by checking out the following blog article
6) But, (as in prior posts) translocations is better than killing them: But, on the other hand, if some translocated rattlesnakes survive being moved outside of their home ranges, and if the only other alternative is certain death (say, if their entire home range is being bladed over or someone is standing by with a shovel), than yes, we all agree that translocation may be warranted. However, keep in mind that negative consequences of poorly planned translocations are well documented for all species (yes, plants, invertebrates, fish, amphibians, reptiles, birds, mammals), so we should not start with the feel-good assumption that any rattlesnake we move will survive. Case in point- an initial translocation by Johnson et al. (1993) resulted in 100% mortality.
There are ways that rattlesnakes can be translocated which will improve their chances of survival, and the most effective thing we can do is to move them within their home range.
For more information, some links to brochures encouraging successful  living with venomous herps in the Southwest