In my previous post, For the Love of Hummingbirds, I mentioned Kurt Leuschner shared his favorite birding places in the Inland Empire and desert areas east of Los Angeles. Leuschner is a professor of natural resources at College of the Desert in Palm Desert and leads many birding and nature walks. Here they are:
San Bernardino/San Jacinto Mountain areas: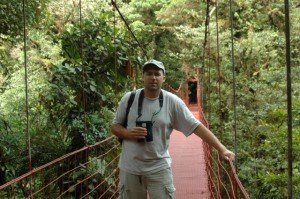 Santa Rosa and the San Jacinto Mountains National Monument – This large area encompasses forest service land, BLM land and two wilderness areas. I like its informative visitor center.
Mount Jacinto State Park – You can access this either from a long hike from Idyllwild or the easy but more expensive way is taking the tram up Palm Springs. It's another world up at the 10,800 foot top, including migrating birds. This is where you can see the Calliope Hummingbird during migration.

Calliope Hummingbird can be seen in the San Bernardino mountains (photo courtesy Steve Myers)
Palm Springs:
The Living Desert – This is a great natural park and museum, and members can come early before it opens to when birdwatching is the best. Make sure you check their plant nursery, which has a great selection of native plants, and other water-wise plants that attract birds and other wildlife.
Indian Canyons– I haven't visited here. Leuschner says it's a good place to see the rufous hummingbird in migration
Desert Areas: (all close to Redlands and Palm Springs):
Enjoy – I know I have some exploring to do….