My husband and I have landscaped two homes now with California natives and other drought-tolerant plants. We even won a local award in a Western waterwise landscape contest sponsored by our area's water district. So while we're not experts I thought I would share our favorite California native plants – especially ones that have done well in inland Southern California. I'll also feature other drought-resistant plants that have done well.
But first, a review of why we prefer natives and their hybrids? Plants native to your area are adapted to your area rain patterns – here in SoCA that can be six rainless months. Natives generally take care of themselves, thus cutting back on landscape services. In addition, native plants attract a host of wildlife and useful insects, and with careful selection they offer beautiful blooms year-round.
I'll start with a favorite – nevin's barberry (mahonia nevinii)– which offers great summer color with it's red berries June through August. It's native to our area, as well as the Los Angeles Basin and San Diego County, It's now extinct in most those areas.
Here are some details about this great plant:
Color– 2 inch yellow flower spikes in the spring, red berries in summer. Leaves are blue-gray-green with brown-red stems.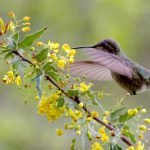 Plant characteristics –Nevin's barberry is an evergreen shrub that grows quickly to 5 feet (mature size maximum 7-8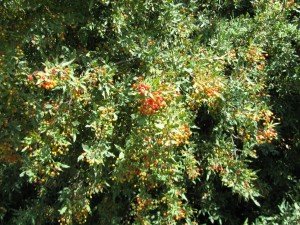 feet tall by slightly less width but in a sprawling manner). Three years ago we planted two one-gallon plants – one is 5 feet tall and one is 6 feet tall. We also have one doing well in a large pot. Nevin's barberry is very cold tolerant, deer and rabbit proof, and has yellow 1/10" spines on the leaf margins that make it a good barrier plant. Both the flower and berries are edible.
Habitat value –Bird love it. Yesterday I observed a mockingbird eating the berries. 2018 update – it's also attracted phainopeplas, which are now staying year-round in our yard. It's also a favorite of wrentits, Western bluebirds, California thrashers and hooded orioles. Bees, butterflies and other insects like the blossoms. Offers good cover for all critters.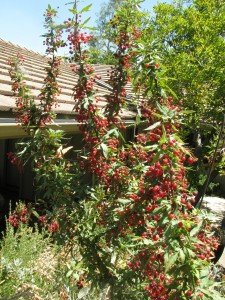 Where to plant – Ours does well in full sun but part shade is also good. Fall through winter are the best times to plant natives.
Where to buy it – Rancho Santa Ana Botanic Garden in Claremont (fall through spring), Tree of Life Nursery in San Juan Capistrano, Las Pilitas in Escondido. Or check with your local nursery to see if they can order
For more info:
Las Pilitas write-up (great site for native plant info)