I realized I haven't posted a Favorite Natives article for a long while. Mainly because I've covered all the major natives like Ceanothus and Manzanitas and Sages and Buckwheats – all considered cornerstone California native plants (click on those links for my write-ups). But there are some wonderful not-so-popular favorites that attract hummingbirds, butterflies and other cool things.
The rare Baja California Birdbush – hummingbird attractor
We first saw a Baja California birdbush – or Palo Blanco (Ornithostaphylos oppositifolia) at California Botanic Garden in Claremont and liked its laciness, shredding bark and interesting flowers (in winter and spring). It took several years to get established – we planted this one about 10 years ago – so not sure if that's typical. Normally found in dry chapparal, it's finally taking off in our front west-facing yard. It's considered rare because its local populations in northern Baja and around San Diego face development threats. It might be hard to find in native plant nurseries — but plant one!
See this writeup in Calscape for more info.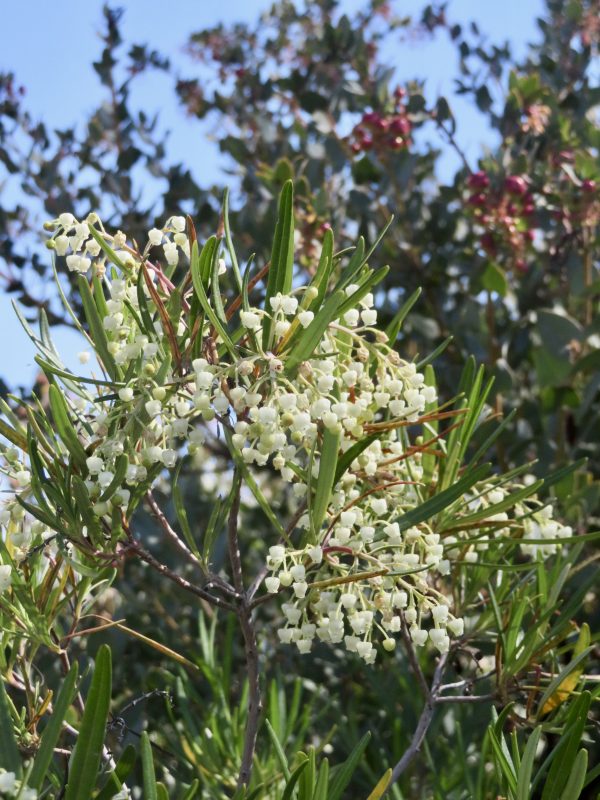 Other Hummer Plants – Baja Fairy Duster, Hummingbird Sage
Ok, the Baja Fairy Duster isn't a California native but is native to Baja California so for me, it's close enough. I am obviously not a botanist. The one we planted in our front yard got crowded out by a very happy Bee's Bliss Sage (which grew 8 feet wide within four years), but we have one in a large pot in our west-facing hardscape — which our territorial Anna's Hummingbird pair visit all day long.
If you have a dry shade or semi-shady area, consider Hummingbird sage (Salvia spathacea). Its dark rose flowers – which bloom winter through summer – is loved by its namesake hummingbirds but also bees and butterflies (is a host plant for several). In our inland California landscape, it's happy now, but the hot summers are a little hard on it. Still, it has expanded from the one or two original plants we put in each of the two areas below. It does best under oak trees and dense shade. In our yard they're on the north side and one is probably a little too sunny.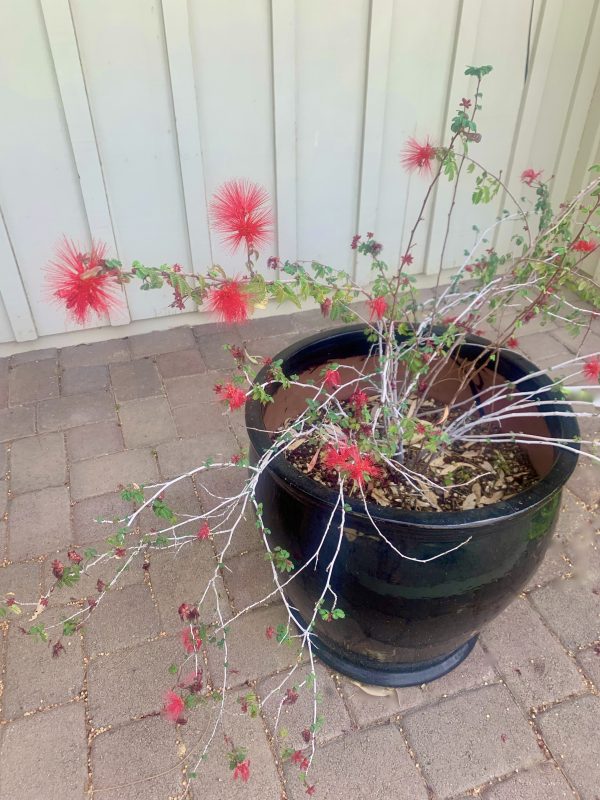 Butterfly Magnets – Astragalus for spring, Goldenbush for summer
We've sought butterfly host plants to help the butterflies that used to be prevalent decades ago in our area. Like most everywhere, the host plants they require to lay their eggs have been removed in many natural areas. And people continue to plant non-natives. It's up to homeowners to plant some of these. Sorry, it's hard for me not to get preachy.
Here are some to consider. Click on the Calscape links for more information (Calscape is a wonderful resource on California natives.)
We have Menzies' Goldenbush (Isocoma menziesii) in our yard but check out other goldenbush that your local nurseries offer. We love that it blooms in late summer through fall, when very little else is blooming in our hot front yard. Native bees flock to it, and it's a host plant for several butterflies and moths. It grows to three feet or so and if it gets rangy, you can cut it 2/3rds in the winter. Ours gets full sun but it supposedly does well in part shade.
I saw an Astragalus – in this case Santa Barbara milkvetch (Astragalus trichopodus) – at our local nursery and couldn't resist since these plants are host plants for at least a dozen butterflies and moths, including common butterflies like Painted Ladies and Acmon Blues. These legumes also grow in dry desert like areas so should be drought resistant. It might have been better to plant one of the eight astragalus that are listed on Calscape of our area, but it's done well its second year.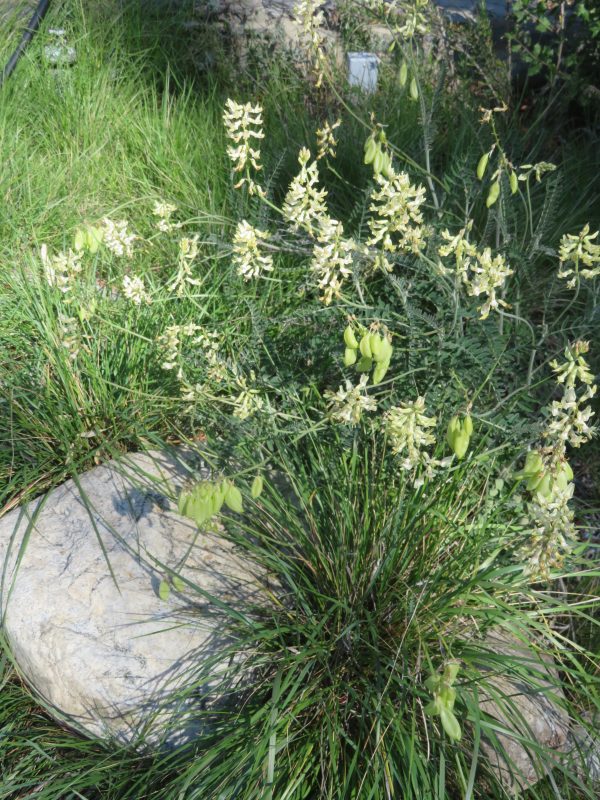 And some wildflowers
With our hotter temperatures, I'm seeking desert wildflowers for their attraction to butterflies and native bees. Two that are doing well in our west-facing yard are Desertbells (Phacelia campanularia) or California Bluebells, and Desert Marigold (Baileya multiradiata), which both reseed readily. After baby rabbits ate one desert marigold I rescued the other and replanted it where it's more protected.
And of course, there are many other plants to consider – check out Calscape or your state's resource for native plants.