Looking for a remote and different hiking experience? The Wildlands Conservancy's Mission Creek Preserve outside Desert Hot Springs California features a birder's paradise wetlands surrounded by a healthy desert landscape. In a transition zone, the Preserve contains plants from both the Sonoran and Mojave Deserts.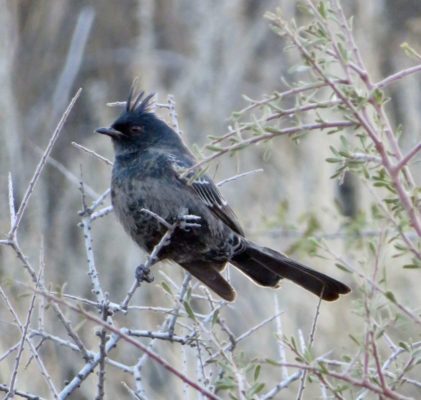 During a couple visits we've seen one person. On a late afternoon walk Christmas Day, we encountered several families on the trail, along with the largest population of phainopeplas we've ever seen.  The black-crested bird with the red eyes feeds on the mistletoe berries on the Preserve's bountiful mesquite bushes.
We also saw an eagle flying at dusk — we think it was a Golden — and a Cooper's hawk, and a pair of kestrels. Not surprising with the rich habitat.
Here are photos from our December visit and from a colorful May wildflower trek shortly after the 2019 Super Bloom.  We tend to just hike in a couple miles, past the wetlands area for a nice view of 11,000+ feet San Gorgonio Peak. You can go longer, and in fact, catch up to the Pacific Crest Trail.
It's a magical place.
From our Christmas Day hike:
From our two Spring hikes (2019 and 2020):
More info:
Open Daily Dawn to Dusk
Size – Nearly 5000 Acres
Getting There: 60550 Mission Creek Road, Desert Hot Springs: off 62 – there's a sign before the turnoff, then drive 1.6 miles on a maintained dirt road to a parking lot.
What to do: Great birding and nature area! Hike the trail along the creek as long as you like (a little over a mile to the wetlands area, 8 miles to the end, 2 miles or so to a stonehouse).  Enjoy a natural desert environment.
Click here for more info about California Deserts 
More info on the Wildlands Conservancy, an amazing organization with wonderful preserved lands.