Since I, a Midwesterner with an educator background, arrived in California in 2002 and sadly discovered it doesn't rain for many many months at a time, I've been shocked there is not more public education on how to not start wildfires. These wildfires are terrible – for people and our wildlife, and for forest or chaparral recovery when fires are too hot or frequent.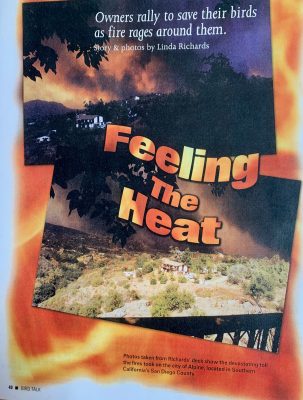 We evacuated during the human-caused 2003 Cedar Fire, which killed 15 people, including a neighbor one-half mile away from our home in San Diego County. More recently, humans also caused our area's fires – three by vehicle fires and one by the notorious party smoke-producing device. Not surprising.  According to the National Park Service (NPS), nearly 85% of our wildland fires are human-caused.
Since Smokey Bear seems too busy — probably dealing with so many fires –  here are reminders on what people should not do during fire season. Unfortunately, that season is much longer – according to another NPS stat, it's 75 days longer than it used to be.
Most fires are caused by campfires, the burning of debris, improper equipment use and malfunctions, discarded cigarettes and arson.
Please do your part and avoid the following activities during high fire risk like now, and especially red flag warnings, when low humidity and heat are accompanied by strong winds.
8 Things Not to do During Fire Season
Don't set off fireworks – I don't think this needs much explanation.
Don't discard smoking materials – cigarettes are the leading cause of fire globally, according to a University of CA-Davis study. Whether it's a cigarette or joint, and maybe the gender-reveal device can also fall into this category, never discard smoking materials unless you're 100% sure they're out. Never throw them on the ground.
Don't mow or trim dry grass during red flag warnings. On hot, dry and windy days, the metal blades can ignite a fire if blades strike a rock. Outside red flag warnings, if you must mow, the California Wildland Fire Coordinating Group advises doing so before 10 am.
All portable gasoline powered equipment must be fitted with approved spark arrestors.
Don't drive over grass or brush – The Snow Creek Fire outside Palm Springs, the Apple Fire and the October 2019 Sandalwood Fire (which killed two people) were caused by vehicles lighting roadside vegetation. But even without live flames, did you know exhaust can reach temperatures of over 1000 degrees? Pull over onto paved roads or cleared areas. California Highway Patrol recommends people call 911 if they see a distressed vehicle. "Too many people look for an 800 number if they see a smoking vehicle, when they should just 911 and the correct law enforcement will be dispatched," said a CHP employee on their information line.
Campfires are usually not permitted during fire season on public lands, but never leave your campfire unattended, and campfires should be cold to the touch before leaving a campsite.
Make sure trailer chains don't drag on the ground since they can spark.
Don't shoot firearms during high fire danger.
"Too many people look for an 800 number if they see a distressed vehicle, when they should just 911 and the correct law enforcement will be dispatched."  -CHP employee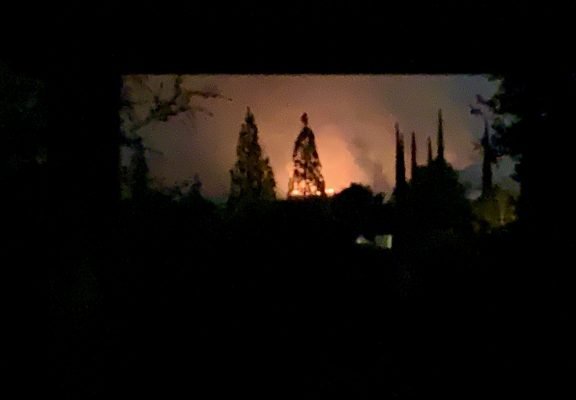 It's easy to get complacent. Case in point: when we were living in San Diego County, shortly after the devastating 2003 Cedar Fire that took 15 lives, a red flag day hit the area. We noticed a neighbor using his chainsaw on the dense chaparral slope below our home.  After my husband confronted him about using his saw during high fire danger, he stopped. Our neighbor either didn't think about it, or told himself 'nothing will happen'.
Please – we all need to be more vigilant.