Note: I added some spring photos in the photo gallery too. Also click here for a map of the preserve
Fall in Southern California falls a little short for this Midwestern transplant. So a recent trip to The Wildlands Conservancy's Oak Glen Preserve in Oak Glen, with its changing foliage of California box elders, sycamores and Kellogg oaks, made for one happy day. The fresh apple pie from Riley's apple farm next door certainly added to the outing at the end of the day.
The Oak Glen Preserve, open 8am to 5 pm every day, offers various trails, which make a wonderful two-mile trek when combined. There's the tree trail with its impressive grove of redwoods, a chaparral trail and the stream trail.  I've hiked the preserve in every season because it's always changing. In summer you see the baby waterfowl on the pond, while it was migrating ducks this visit. Marianne Shuster, outdoor education director, also encourages winter visits when the varied terrain is more visible.
What makes the preserve special: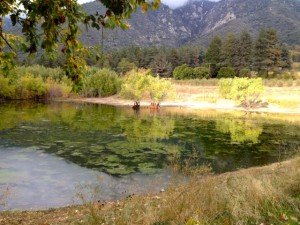 The amazing variety – including a running stream and large pond, a nice chaparral section, and old majestic trees
Great interpretive signs for children and adults. Schuster said they just installed some throughout the trail system and plan more. "We want families to learn something about what they are seeing and to be able to take that knowledge with them to apply elsewhere," she says.
Recreation of all types: In addition to hikes that take you through a variety of California landscapes, there are special events on many weekends, plus a beautiful grove with picnic tables close to a parking area.
Wildlife sightings: In addition to the waterfowl and a variety of foraging birds, we saw flocks of acorn woodpeckers harvesting the many oak acorns. Shuster said a recent group of visiting schoolchildren saw a mother bear and her two cubs climb up a walnut tree and watched them shake the branches to drop the walnuts. Bobcats, fox, and deer are among the other visitors.
Distance/Trailhead: The preserve is located at the top of Oak Glen Road (39611 Oak Glen Road). Turn into Riley's at Los Rios Ranch and the preserve access and visitors center are off the side parking area. Open 8am to 5 pm.
For more info:
The Oak Glen Preserve website – http://www.wildlandsconservancy.org/preserve_oakglen.html – lists many activities for children and adults.
– The Wildwoods Conservancy – www.wildlandsconservancy.org –  has preserved 11 other areas in California  –all set aside for hiking and other recreation. I've visited several and they're all wonderful.