I had a couple hours to kill in Corona CA while my husband attended an art class the last couple weeks — and luckily discovered this wonderful area in the Cleveland National Forest. Nice, mature chaparral, lots of birdlife during my dusk walks, and beautiful scenery. There are issues with parking (see the update just below this paragraph) but once you get there, you can feel safe with others on the main trails, or you choose more adventurous routes.
July 2014 PARKING update from Nelson Nelson: A few things are different:
Standard Pacific has completed the public improvements and are almost ready to submit the tract to the City for acceptance….
All of the parking stalls at the gate near Skyline Drive are designated for handicap parking though. There is more of a need for this than most people might imagine. Parking within the Orchard Glen Community is partly restricted to residents with permit parking decals. The applicable streets are posted notifying motorists where parking permits are required.
Trail users are encouraged to park on Foothill Parkway in the areas marked for parking. Most of the parking on Foothill Parkway is still available and is expected to be for the duration of the construction of Foothill Parkway Westerly Extension which is expected to continue through January 2016. There is a fence and gate at the starting point of the project on Foothill Parkway at Trudy Way which is restricted for construction activities only.
First, about the trail:
1) The recently closed-to-traffic Skyline Drive Trail, a nearly 10 mile trip up and back if you go the whole way. Views all the way up, including Catalina and San Clemente Islands and the Long Beach Harbor near the top (at Oak Flats) on clear days. You can also access other Cleveland National Forest trails at the top. 2) Trail to Tin Mine Canyon (2.5 mile hike roundtrip) 3) For solitude seekers, the many user-created trails (although I'm not supposed to advertise this…) I need to go back and explore the Tin Mine Canyon trail but photos below illustrate the other two options. Enjoy!
Parking Pandemonium Since more subdivision houses have gone in, despite the historic use of the trails in this area, pressure was exerted to close access through the subdivision, and vehicle access up Skyline Drive Trail closed. Parking has changed. As Jake Rodriguez, the Trabuco Ranger District's Recreation and Lands Officer says, "It's a little complicated right now."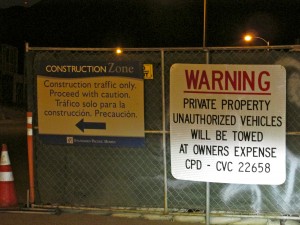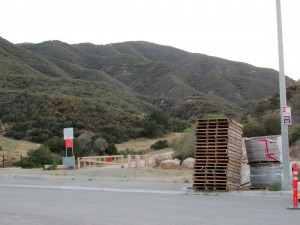 After discussions with the City of Corona and the Cleveland National Forest Service, here's the deal: There are five parking spots at the end of Burrero Way but during construction the company Standard Pacific is not allowing vehicle traffic. "The parking stalls are still owned by Standard Pacific but they are dedicated to the public," says Nelson Nelson (yes, that's his name), the City's civil engineer. "If there's nobody at the gate and no construction, cars can park in the five parking places." Directions: Go west on Foothill parkway to the end, left on Trudy Way, left on Rawley, right on Burrero. However, there is no parking on the streets now without a permit (only obtained from a resident or the subdivision authorities).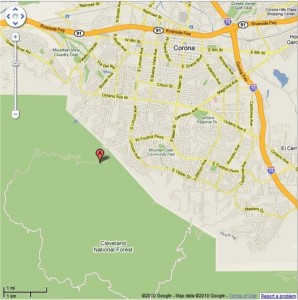 Otherwise, Nelson encourages parking at the end of Foothill Parkway in the designated parking (enough for about 50 cars) where you walk on the paved Skyline Drive that is now closed to traffic — which is really quite easy and scenic. My comment on this: This situation is still evolving. As Nelson says, this may all change in the fall when the current construction ends. There are some who want to expand parking, others who want no parking in the subdivision. Please make your voices heard. If you want to voice your opinion, email or call Nelson Nelson at nelson.nelson@ci.corona.ca.us or 951-817-5765. Also, wherever you live – support your local land conservation trusts, which can put aside areas like this. See Land Trust Alliance website.