This is one of a dozen favorite hikes in the Inland Empire. Search 'hikes' for my others.
To escape our inferno heat in the Inland Empire (inland east of Los Angeles), I like to run to the forest.
Here are highlights from two favorite San Bernardino National Forest hikes — John's Meadow and the bottom portion of the Vivian Creek Trail — both reward you with beautiful views, running water and a great sampling of the rich ecosystems our So California forest provide. In spring and early summer this includes numerous butterflies and wildflowers.

Johns Meadow
The San Bernardino mountains are known for their steep terrain but this is a moderate hike. We did the six miles round-trip but even going a half mile out and back is well worth it.
Highlights: The steepest part is the first one-half mile, then it levels out as it hugs the contours of the slope of mature forest. Most of the year you'll pass over running streams, surrounded by towering Jeffrey Pines, some Incense Cedars and eventually gorgeous Sugar Pines. Really beautiful with nice views.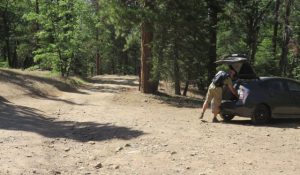 How to reach: Quite easy – go up Hwy 38 past the little village of Angelus Oaks, continue and turn right on the first Jenks Lake Road (it's a loop road). A third mile up, turn right on a dirt road, the trailhead is a half mile up. We made it very slowly in our Prius but a higher clearance vehicle is better. The trailhead sign says Forsee Creek Trail which shares the trailhead but is closed due to fire restoration.
Vivian Creek Trail
This is the original trail to the top of San Gorgonio Mountain, but if you can handle an initial steep 1/2 mile – helped by great views – you'll be rewarded with cool lush meadows under ancient oaks, pines and cedars along a meandering creek.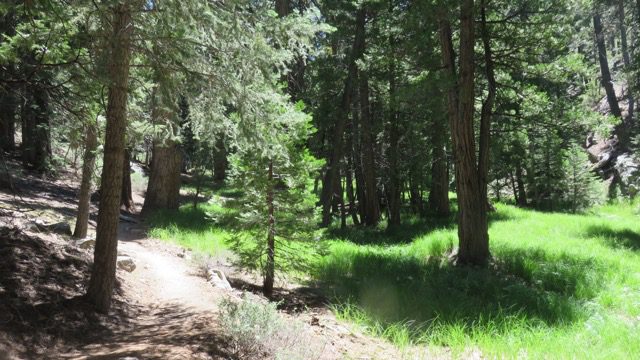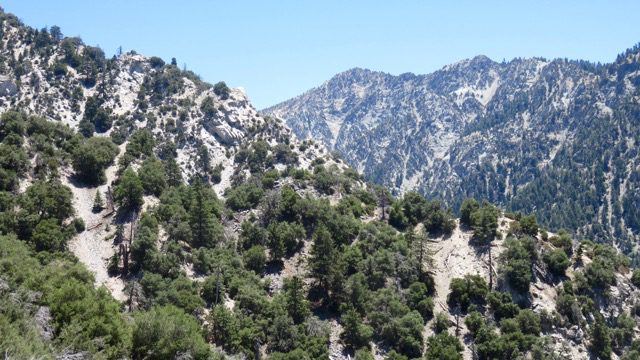 Highlights: The first .6 miles is steep but is rewarded with beautiful views. Then you reach the creek and a shangrila of ferns and lush grasses.. You can go as far as you want – I checked out the creek and then turned around (for a total of 3 miles) but early starters and backpackers can go the nearly 8 miles to the top of the San Gorgonio 11,000+ summit. For more info on this trail click here
How to reach: Take Hwy 38 and turn off onto Valley of the Falls Blvd (the road to Forest Falls) and park at the end of the road. You're in the nestled village of Forest Falls. Drive up to the upper parking lot (or if it's full you can park at the lower one) and walk about a half mile up the path from the lot. Signs tell you when the trailhead is directly across the huge wash. (photos below)
Other Notes:
You should have an Adventure Pass, available at the Mill Creek Ranger Station that you will pass on Hwy 38.
Both places had lots of blooming wildflowers – here's a great resource from Heaps Peak Arboretum for identifying them.
Butterflies, especially swallowtails, were peaking in June and should remain in high numbers into July. Here's a list of local butterflies.