My husband and I often test berries from native plants that we know are safe, especially after seeing birds and other wildlife eat them. Some of the past grazings have included native currant berries or hollyleaf cherry berries – both bright red and pretty good tasting. Sometimes it's non-natives, such as strawberries from a neighbor's 40 feet row of strawberry trees (the Arbutus unedo version have the best fruit), although the plan backfired a bit when our 3 year old granddaughter threw herself into the fun with a little too much gusto, and threw up after eating about a dozen of them.
A couple weeks ago I attended a very interesting walk at the Rancho Santa Ana Botanic Garden (RSABG), led by William Broen, an ethnobotanist who has studied medicinal, edible and other folklore about native plants.
I can get overwhelmed with too many examples but he kept his discussion to 28 plants that the group came across on our walk. I'll focus on the better tasting and more common ones. All these were used by Native Americans and early settlers.  (The photos were all taken in June)
Edible:
I would hope to remember these if I was lost:
Manzanita (Archostaphylos)– In January/February the flowers are edible, as are the later berries (some say not too many)
Desert Wolfberry – (Lycium brevipes) or Baja Desert Thorn – its red berries are edible. I love this plant for habitat value – there are always so many birds on them, using for food or shelter.
California Bay – usually found around moister areas, streams. The nuts "when roasted taste good," according to Broen.
Currants: (Ribes) the red berries are good tasting (high in antioxidants and vitamin C)
Pinyon pine – the nuts and inner bark are edible and nutritious. The tips of the branches if soaked make a pine water that is high in vitamin C.
Chia (Salvia columbariae) – usually found in higher elevations but there was one growing in the shade at RSABG. It's a very popular seed these days, high in omega 3 fatty acids
Nice teas:
Yerba Buena (Sautureja douglasii) – Yerba Buena means holy herb, was named by the Spanish missionaries after they discovered its many properties from the native people.  Broen said it was common in pharmacopeia until the 40s and 50s when "it was knocked out by modern medicine practitioners." He cites a relaxing, uplifting effect, good for headaches.  It has many other medicinal uses (including infections, poison oak remedy.)
Hummingbird Sage – the leaves or flowers make a pleasing tea. It also has decongestant, antimicrobial properties, and is good for sore throats, according to Broen.
Wooly blue curls – (Trichostema Lanatum) the leaves, flowers and stems make a nice tea, supposedly has a positive effect on mood, stomachache, memory.
Other Medicinal: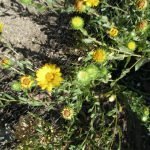 Gumweed (Grindelia) – I likes this one, you can put white sap on cuts for antibacterial and soothing, will also dry them up. "You can rub directly on poisonous oak and its an anti-inflammatory, antibacterial and antispasmodic," says Broen.
Common yarrow (the native has the white flowers) – flower is the strongest part and has many uses as a tea or tincture, such as for mild pain, toothache or headache; can also put on wounds.
White sage (Salvia apiana)- Sometimes called the "Native American clorox"  because of it's wide use for many purposes, a tea of the leaves offers antibacterial and anti fungal properties. The high-nutrient seeds are edible.
Willow (Salix)– we didn't come across this as it's found more in riparian areas, but the salycilic acid the willow family produces is the basis of aspirin. One common remedy was chewing the leaves  or inner bark for pain, such as toothaches.
Others include oregon grape and nevin's barberry, which have antimicrobial and antiamoebic properties. Of course, people need to be careful with medicinal uses, and it's best to consult someone with expertise for proper use.