Note: See comments below for discussion on native vs tropical milkweeds
We planted a couple milkweed (Asclepius curassavica or tropical) plants three years ago. But – no monarchs or caterpillars. The last six months the milkweed thrived and climbed seven feet up into our magnolia tree, and also spread via seed. Now we have a couple dozen plants out front.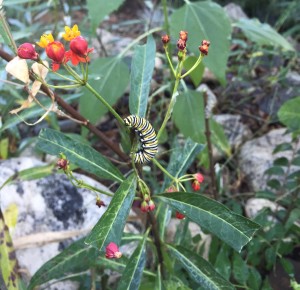 One week ago, after a short trip away, I was watering and noticed a huge caterpillar (see right) and then saw more. Yea – finally!
We didn't have time to enjoy them long as they were ready to go to their next stage. I've looked all over for the well-hidden pupa (or chrysalis) – no luck.  In another 3-7 days, we'll look for the new emerged butterfly, as the chrysalis stage is 10-14 days. In the meantime, we've seen more adults (featured photo above) so others are continuing the cycle.
Click here for more on their lifecycle – thank you Monarch Watch.
Update: 11/21/15: Since the post above, we've watched another set of caterpillars get fat on our tropical milkweed. We've watched them hang into a 'J' form where they hang upside down before becoming a green case (chrysalis). One even walked 25 feet up our driveway to another area of plants, and then walked back to a manzanita close to the milkweed patch to form its chrysalis. Apparently, sometimes things are better closer to home. Photos below:
Click here for a post on tips on attracting butterflies and pollinators given by two experts.