Pollinators – birds, bats, bees and butterflies – are critical. They pollinate over 200,000 of the world's flowering plants, including 80% of our food plants. The genetic material they transfer allows seeds to form, which continue the species.
Kurt Leushner, a popular professor at the College of the Desert in Palm Desert, highlighted our local pollinators at a recent horticulture meeting.
Below are some of his highlights, including a 'did you know' tidbit he shared.
More appreciation for native bees
Leuschner's bee information intrigued the attendees most. Mention bees and most people think of honeybees, the introduced bees from Europe that build hives and make honey. "While honeybees are the most numerous, native bees are the most effective pollinators but are being overtaken by the honeybees. We want to encourage as many native bees as possible," Leuschner said.
Some takeaways about native bees:
They're not aggressive, with most nesting in the ground or in cavities.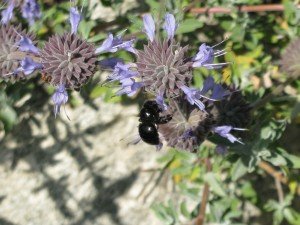 Mason bees, bumble bees, leafcutter, carpenter (see my prior post)and sweat bees are common bees in California.
Honeybees pollinate numerous plants, but many native bees have evolved to pollinate one type of plant.
Examples: the diadasia or Globe Mallow bee pollinates guess what – globe mallows, while bumble bees and leafcutter bees will pollinate numerous plants. If you notice little pieces taken out of leaves, such as rose leaves, you've likely attracted leafcutter bees, which gather both native and ornamental leaves for their nests. In Utah, the Dwarf Bear Claw Poppy is only pollinated by the Poppy-loving Bee. In desert areas, the Centris or Digger Bees are the main pollinators of Ironwood and paloverde trees.
An easy way to encourage bees is to drill holes in untreated wood: To accommodate different species of bees, which vary in size, hole sizes can range from one-quarter to one-half inch and from 3 to 6 inches deep.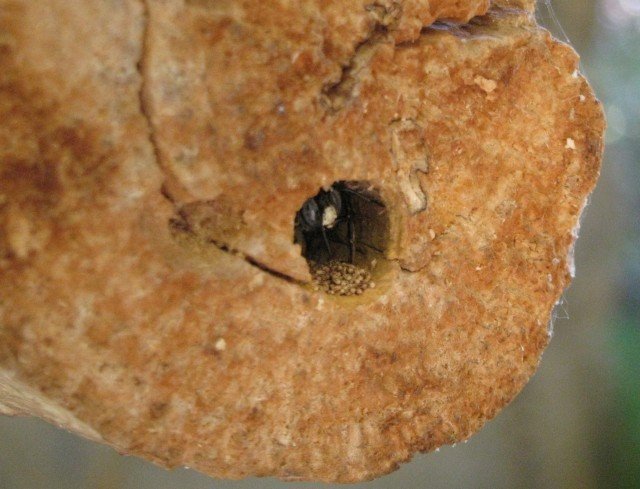 Did you know? There are 200 different species of native bees in our area. Leuschner said the blooms on beavertail cactus are a good place to look for a variety of native bees.
Hummingbirds important locally
Hummingbirds are important pollinators in Southern California.
Many species have favorite plants, says Leuschner. In desert areas, the Costa's hummingbird prefers chuparosa, the rufous favors ocotillo while our local Anna's may be found on numerous flowering plants, both natives and non-natives like bottlebrush.
For Southwest bird lovers: Leuschner leads field trips, including one to southern Arizona where you can see 12 hummingbird species. See Coachella Valley Wild Bird Club website for many of the tours – click on the latest newsletter.
Did you know? Hummingbirds eat half their body weight each day, and also feed on a large quantity of insects and spiders.
Moths and butterflies: Plant natives
Leuschner showed beautiful photos of butterflies all over the world, which depend on flowering plants for their nectar, allowing pollination. Some highlights: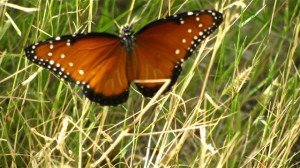 Yucca moths plays a vital role. Without it, the flowers on the 7 southwest yucca species would not be pollinated and the species would die out. The yucca moth lays its eggs in the flower's ovaries and the hatched larvae survive by eating the seeds. But they leave some seeds, allowing the plant process to continue. "They're completely dependent on one another, the yucca plant can't survive without the yucca moth and the moth can't survive without the yucca," said Leuschner.
Many know that to attract monarch butterflies, plant milkweed, which the butterfly larvae eats but contains a chemical that is poisonous to predators.
Butterflies depend on two types of plants to survive: host plants for egg-laying and which provides the food source for the larvae, and nectar plants for the butterfly stage.
Examples: the painted lady is our most common butterfly and lays eggs on thistle and mallows, while the thistle's flowers, along with buckwheat and plants in the sunflower family provide important nectar sources. Sycamores are the favorite host plant of the western tiger swallowtails. The giant swallowtail is not native here but came with the introduction of citrus, which is its host plant.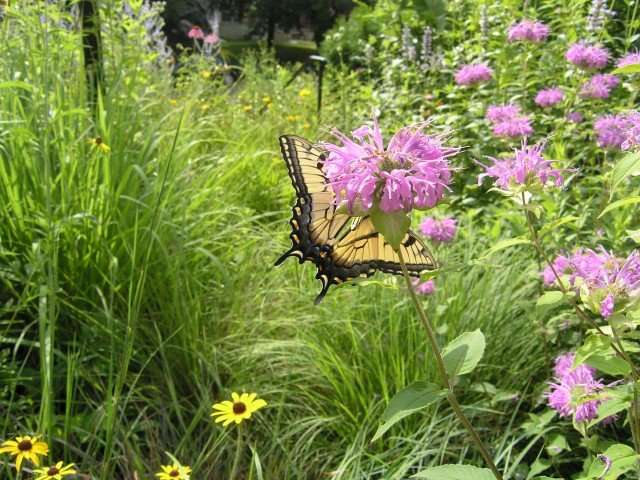 Plant natives to keep our butterfly populations healthy, Leuschner says.For more info see prior post.
Also, avoid pesticides. There's also some concern that crops that are genetically modified, are detrimental to butterflies because they often contain a pesticide.
Did you know? The giant-skipper butterfly's larvae is the worm in traditional tequila?
Bats and bat guano
This last group carries more importance in desert areas. In Arizona the long-nosed bat is an important pollinator of saguaro cactus. Still, bats are important for insect control in our area.
Did you know? If you would like to reduce the flying insects on your property, buy or build a bat house. And, according to Leuschner, smear some bat guano on the house to really attract the bats.