You've likely seen the headlines the last few days. In our local paper, the Los Angeles Times "Pesticides suspected in mass die-off of bees" (article no longer available online) discussed mounting evidence that pesticides negatively impact bees. I've written two prior posts on the collateral damage of pesticides on wildlife – this one addresses human health effects. I think my aversion to pesticides started when my father would get out the can of Raid and spray it on the wasps attracted to our plates of food when we ate outside on hot summer days in Chicago. That led to many a battle between us. If he was still alive, I'm sure we would have a lively discussion on the mounting evidence. Anyway, back to the article.
Below are some references to pesticide effects on human health:
My Takeaway: As I've said in my last post Go Organic to Save the Bees buy organic to avoid pesticide use in foods. Use pesticides (including Roundup) sparingly and avoid being near pesticide spray use in agricultural areas.
Parkinson's Disease A Sierra magazine article called "Pesticide Alley" found statistical links between pesticides and Parkinson's disease in California farming areas. Some highlights:
Many of the pesticides used in the U.S. and developing countries are banned in Europe.
Research by UCLA epidemiologist Beate Ritz found that residents who consumed private well water and lived within 500 feet of farmland with documented long-term pesticide use were almost twice as likely to get Parkinson's disease.
Previous research on Dept of Agriculture and EPA samples taken from over 250 wells in 16 states showed nearly half (45%) contained pesticides. In addition, the author of the article took 10 samples from private wells in the California agricultural area – toxicity tests revealed pesticide traces in 6 of 10 samples from private water wells. Five contained three or more herbicides, one contained residues of five weed killers.
"Our results indicate that systematic testing for [male hormone blocking] activity of currently used pesticides is urgently required." U of London scientists
Effects on male hormones: Tests on 37 widely used pesticides revealed that 30 of them blocked or mimicked male hormones, according University of London toxicology scientists led by Professor Andreas Kostenkamp. "Our results indicate that systematic testing for anti-androgenic activity of currently used pesticides is urgently required," the scientists wrote in the study published online Feb. 10 in Environmental Health Perspectives. Sixteen of the 30 had no known hormonal activity, and are not included in a screening program being undertaken by the U.S. EPA. Most are fungicides applied to fruit and vegetable crops, including strawberries and lettuce. Traces of the chemicals remain in foods. The most potent compound tested in terms of blocking androgens was the insecticide fenitrothion, an organophosphate insecticide used on orchard fruits, grains, rice, vegetables and other crop.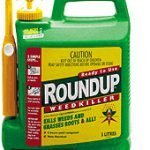 Roundup Concerns: Scientists from the U.S. Geological Survey (USGS) have found significant levels of the commonly used glyphosate (Roundup) in air and water samples in Mississippi and Iowa. They said glyphosate is commonly found in rain and rivers in agricultural areas in the Mississippi River watershed. (Note: agricultural use of Roundup has increased from less than 11,000 tons in 1992 to over 88,000 tons in 2007.) Click here for the Roundup research (Aug 2011). Also, Earth Open Source posted "Roundup and birth defects: Is the public being kept in the dark?" , a report by a group of international scientists and researchers. The report cites 359 science papers and other articles/reports, and shares known documentation that Roundup causes birth defects in experimental animals, sometime even at low doses.
Click here for Roundup Alternatives from Consumernotice.org
Other Health Problems: A growing body of research is linking exposure to toxic and persistent pesticides to a range of health problems, including developmental disorders, ADHD, lower IQs, and even cancer. A study published Oct. 7, 2011, in Environmental Health Perspectives showed negative effects on human growth. The study took blood samples from 50 Russian elementary-school-aged boys, and found those with the highest pesticide concentrations were more likely to grow less than those with lower concentrations.
– Photos from Google Images