Please get this info out to your friends: Open-topped pipes for vents or site markers can be deadly to birds.
Two organizations, Audubon California and the American Bird Conservancy, found that single pipes can contain more than 200 dead birds (and 45 species! which have included kestrels, bluebirds, house finch as well as lizards). The birds enter the pipes to look for nesting or roosting, or they fall in and then can't climb out of the smooth sides. Even pipes placed against a wall for just a few days inadvertently lured birds. Any size – 1 inch up to 10 inches – have contained dead birds.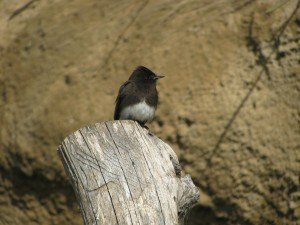 What you can do:
Remove any pipes that are not essential
Cap vents with cap covers found at hardware stores or cover vents with wire mesh
Share this information with neighbors, relatives and people in your community.
So – please check any open pipes on your property and urge others to do the same.
Open vertical pipes occur in more places than you might think, including:
Sign posts
Fences
Survey markers
Buildings
Irrigation systems
Unused chimneys
Good news: some states, such as Nevada have outlawed the use of open PVC pipes as mining claim markers. See Nevada bans open PVC pipes
Recent update: I communicated today with Robert Johns of the American Bird Conservancy and they are in active discussions with the BLM and the U.S. Forest Service about solutions for the problem. He said one issue is finding a long-term method to cap the pipes. "Usually, they are talking about a plastic cap that fits over the PVC pipes but over time, from wind and freezing weather they become dislodged or perhaps birds or other animals knock them off. Certainly, caps or the wire mesh can be permanently affixed to the pipes with a couple of screws or PVC pipe glue but that has not been required. So that will be one of the issues we will talk about in our next meeting, he said, adding that a major story should hit the news in the next few days.
For more info: BLM article