I took a hiatus with our Bushnell wildlife camera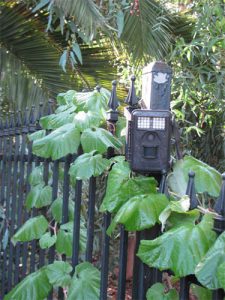 , but have put one up again the last couple months in 3 different places to track our wildlife visitors. Thought I would post a few photos of what's been in our yard, plus what's been waking up my husband most early mornings as it goes through the gate next to our bedroom.
We live in a suburban setting (in Redlands CA) but in back of us is an alley that leads to the golf course and a canyon (San Timoteo Canyon). I think it shows the importance of wildlife corridors, which increase biodiversity by allowing small and larger wildlife to traverse areas, even in suburbanized areas.
Looks like we have deer, possums, skunk, raccoons, fox, bobcats,and coyotes, with the latter three especially welcome as a natural rodent control. The last couple weeks on our neighborhood walks with our macaw, we've seen a doe in a neighbor's yard down the alley. Our pattern is to stop and watch one another before turning around. Our camera shows a buck is visiting her.