Originally posted Jan 2012, Updated August, 2013
As you can see in the above photo and from my entry Wildlife Cam Shots: While You're Sleeping, we had a rat problem. The year-round availability of fruit from our orchard, our compost bin and feeding the birds all made a happy habitat for them. Their squeaks outside our home at night got so loud we closed our screen doors, even during hot summer nites.
We had to do something and reluctantly contacted a local pest company that recommended the anticoagulant rat poison (called AR – anticoagulat rodenticides). My husband was aware that wildlife was getting poisoned (called secondary poisoning) from eating rodents that are dead or dying from the latest generation of ARs — so we wanted to avoid those. We opted for a nerve toxin, bromethalin, found in Tomcat pellets and other products at hardware stores. At the time there was little research available, so we kept our fingers crossed that it was a safer alternative. It really worked. Now we discover that bromethalin is very toxic to birds. I remember feeling dread when I saw a cooper's hawk leaving our yard with a rodent in its talons.we have rats that like to bed down in our attic at night.
Nearly two years later, we still have rats that like to bed down in our attic at nite. After two months now, we think (hope?) a different pest company has sealed all potential entry holes in our tile roof. For nearly $2000 they have promised to seal all entry points on our roof and eavesv, and guarantee it for one year. The fact it's taken two months (again, we hope), shows it's not an easy thing to do.
The takeaway: Don't use anticoagulant and nerve toxin poisons and use others only as a last resort.
"The bottom line about poisons available on the market in the U.S. is that each and everyone has risks for wildlife associated with their use, either through primary or secondary poisoning." Laurel Serieys, Ph.D. Candidate, U of California, Los Angeles

The research below has been updated in a later post – see
Recent Research:
Dying Raptors: Dr. Maureen Murray from Tufts School of Veterinary Medicine, tested 161 raptors that were brought in dead or died at the clinic for residues of the second generation of rat poisons, which kill by causing the animal to bleed to death — 86 percent of them had residues of the poison in their systems. The amount of rat poison that was fatal varied greatly between individuals. For example, one bird appeared to have died with 12 parts per billion (ppb) of the poison in its blood, while another that had died of other causes, had a surprisingly high 260 ppb.
Bobcat Research: Laurel E.K. Serieys from U of CA-Los Angeles, in her study of bobcats infected with the skindisease mange (likely linked to ARs), has found 95% of bobcats are exposed to anticoagulant rodenticides (ARs) due to eating animals containing ARs. "This includes data gathered from both urban and agricultural areas, and also from individuals in more "remote, pristine habitat" locations such as Point Mugu State Park," she says. "A fetal bobcat in our area was revealed to be exposed already to ARs and so this is an issue beginning for bobcats during prenatal development and likely persisting for the duration of an individual's lifetime." Below is a 'before' and 'after' photo of one bobcat.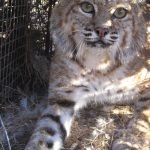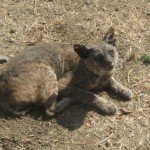 "One year after [the before photo], residents starting sending me pics of him affected with terminal mange likely associated with AR poisoning. I tried to capture him to treat him, but was unable to before he died. He was one of the most magnificent, beautiful bobcats I captured- the heaviest I caught at 20pounds, and I caught him in the Hollywood Bowl- so a feat in location alone!," says Serieys.
What You Can Do if you have rodent problems:
Remove any attractants before considering poisons: Serieys had native rodents entering her house when she first moved to a home next to Topanga State Park. Once she took half a day to find all entry holes into her house and removed her bird feeders (tho we only throw seed on the ground in the morning, we need to consider stopping that ) – she no longer had a problem.
Both researchers recommend pest control agencies or companies that use 'sustainable" pest control companies or Integrated Pest Management (IPM) – See resources below. IPM treatment options vary from sealing cracks and removing food and water sources before considering poisons.
When to use poisons: The San Francisco county guidelines recommend poison use only when "human health or structural integrity of buildings is threatened by uncontrollable rodent populations."
Remember that the business of most pest companies is to sell poisons: Even after sharing research with our local pest company, they continued to insist that anticoagulant poison is safe on other wildlife. I'm convinced it is NOT. As Serieys says, "[many pest company workers] are not scientists, chemists, biologists, wildlife naturalists out picking up the coyotes, owls, hawks, mountain lions etc. who have died of internal bleeding."
Also beware of hardware store poisons such as D-Con: Because of the higher danger of second generation anticoagulants, (rodents have developed a resistance to the first generation poisons, which were already not as effective) the EPA has eliminated loose pellets and require bait stations that are more protective; however, you can still purchase individual, household size packets such as D-Con – these contain the same poisons that Murray and Serieys have researched.
And beware of other poisons: We ended up using a neurotoxin (bromethelin) available at Home Depot and Lowes, because we hoped it was safer. Both Serieys and Murray say there is a lack of data on it – it just hasn't been studied. Says Serieys: "The bottom line about poisons available on the market in the U.S. is that each and every one has risks for wildlife associated with their use, either through primary or secondary poisoning. Cholcalciforal, bromethelin, zinc phosphide, and strychnine pose both risks- primary and secondary poisoning."
Resources/Links:
Laurel Seriey's research and website Urban Carnivores- www.urbancarnivores.com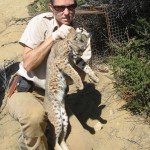 Link to Maureen Murray's raptor research
What is IPM? website
Good website on rat control – uses IPM techniques- http://www.wildlife-removal.com/rat.html
Other: Article "Rat Poison Deadly for All Wildlife" that appeared in the Ojai Post
EPA page on rodenticides w/links to tips to control rodents
Sacramento Bee article (4/11)