First a full disclosure: I have had both indoor cat and outdoor cats.
Yesterday I came across a half-eaten bird kill caused by a cat I've seen stalking our bird-friendly property. It made me think of some research The Secret Life of Roaming Cats I heard on NPR in August. Working with the National Geographic Society, University of Georgia researchers strapped small video cameras on 55 cats as they roamed Athens GA to see how they spent their time.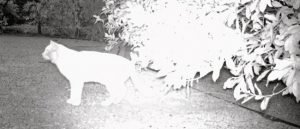 The findings? Aside from a fair amount of loafing, a surprising number of cats cheated on their owners by visiting other homes for cuddles and food. But the toll some cats had on wildlife was concerning. While less than half exhibited stalking behavior, one-third killed prey that surprisingly was made up of more reptiles, snakes and small mammals than birds. The research verified one aspect that drives me nuts: The cats ate their prey less than one-third the time. They were more likely to leave it where it died, or they took it home.
In the segment, one of the helpful suggestions by wildlife ecologist Kerrie Anne Loyd was to buy a CatBib ($10.95 small, 12.95 large) (http://www.catgoods.com) An Australian study showed the CatBib stopped 81% of known bird-killing cats from catching any birds! (See published CatBib research article)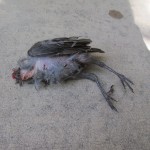 I personally think cats should stay indoors for a variety of reasons. There are lots of stats out there about the damage cats do. The American Wildlife Foundation estimates that more than 20 percent — so 1 of every 5 songbird death – is due to cats running free. A 2010 U of Nebraska report estimated 480 million birds in the U.S. die annually from cats. But obviously from the catcam study there's a toll on the other animals.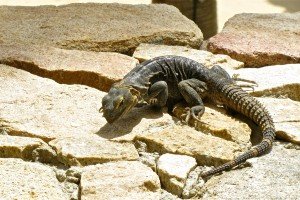 My husband and I have experienced many examples. During one 4 hour visit to our rental home in San Diego this spring, our renter's cat caught a small snake, followed by a small mammal. My husband and I pried them from the cat's mouth and released them, though we aren't sure they survived. Years ago our pet cockatiel flew outside and died two days after a cat attack, due to the low-grade toxin in cat saliva (one reason we've upgraded to parrots…). Our renter's other cat disappeared this summer, likely due to a coyote.
If you're a cat owner, look at the resources below & consider the following:
If you can't bring your cats inside permanently – please consider this Birds Be Safe Collar -A recent United States-based scientific study has showed a 87% reduction in birds caught by cats by 87% with Birds Be Safe collars.
Friendly inside, cats revert to its hereditary, predatory nature once they go out the door. And while that may seem 'natural' remember that, cats are not part of the natural predatory cycle.
Keeping cats indoors reduces injury and getting nabbed by a predator (coyotes as well as cars).
Cats not introduced to the outdoors don't miss it. Keep them indoors from the start.
Also, cats do fine on leashes, especially if started young.  Those who have leash-trained their cats, including my husband, report they go happily for walks just like a dog.
If you really can't make the decision to keep your current feline in, supervise them and keep them indoors during the warm season when most kills happen. And consider a CatBib above.
Consider building an outdoor area. A friend of mine built a three level cage in their garden which their cats access through a catdoor installed in a bedroom window. Pretty ingenious. There's even a hole on the bottom level that drops into a litterbox. "They love to go out there and nap on the carpeted shelves, or watch the birds and squirrels," she said, adding there's plenty of room for the cats to run around.
Or – make a vow that any future cats you have will be indoor-only cats, as it's easier to start early.
For a number of reasons, consider keeping your cats indoors.
Resources