I again hiked Wildwood Canyon State Park in Yucaipa CA last Monday morning and after my 2 hour walk I finally saw a woman walking her dog. This park offers solitude, gorgeous flowering shrubs and wildflowers, and a wide variety of hikes. The 900 acre park is  open to horses, cyclists and dogs on leashes.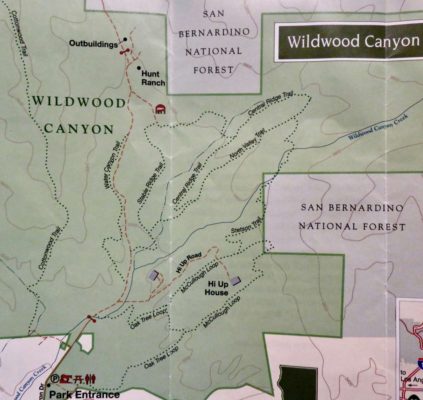 In the past I've visited the Hi Up House and the Hunt Ranch (click here for my hike there) – both former ranch houses in the mid-1900s. This time I checked out trails heading up into the foothills, the North Valley trail and the Central Ridge Trail – see map (which are also available at the park entrance.)
After our good winter rains, the critters and plant life in this park's excellent example of chaparral and sage scrub plant communities are plentiful.The mature native oaks — some up to 250 years old – are great too.
Here are some photos from my trek, which took about two hours, with stops to enjoy the sights.
Happy Habitat
Flowering California Native Plants
Trail Vista Photos