It's finally cooled down here in California and fall is a great time to reflect on what's done well and what hasn't in our yards. And also ponder what we might do differently. In Southern California – unlike in the Midwest where I grew up – there's no rest for the weary since fall through winter are ideal times to plant. After all, roots have time to get established before the heat begins once again. This is especially so for California native plants.
Below are some thoughts, along with plant sales in our area.
Tips for Native Plant Survival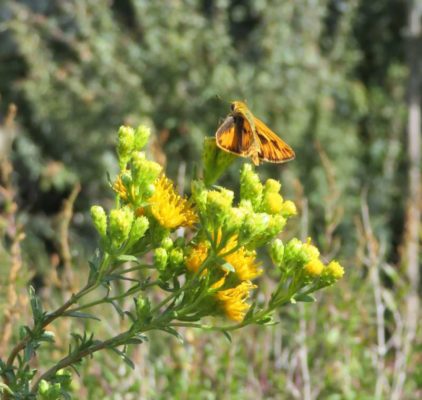 We continue to recommend California native plants since replacing our lawn with mostly California native landscaping 10 years ago. Especially with rising temperatures, and the ongoing drought, we like our lower water bill, and how they've attracted butterflies, birds, and interesting native bees and insects. Planting summer and fall bloomers like California fuchsias, California goldenrod, and California bladderpod (Isomeris arborea), and long-blooming buckwheats (Erigonium) such as St. Catherine's Lace or Santa Cruz Island can provide good color into the fall.
Native plants have a reputation for being tricky to grow. We've had good luck, perhaps aided by having normal rainfall the season we re-landscaped much of our front yard.
What we've learned is: 1) Plant in the fall to early winter, 2) Don't rough up the roots, make a large watering basin and water extensively at planting,  3) Keep the root ball moist the first month. Then in months without rain, water deeply when the top inch is dry. During the summer we water late in the day on cooler, and if possible overcast days, replicating rainfall. Watering during heat can lead to root fungus issues. Avoid watering the main stem, instead encourage the development of deep and extensive roots.
Tree of Life Nursery has an excellent guide on watering plants and also one on planting them.
Watering Trees, Birds and other thoughts
Water your trees! Seven of the last eight years have logged subnormal rainfall – this year we received half our normal. Our trees are suffering, especially if you've reduced your normal irrigation. There are no restrictions on hand watering your trees. Water with a slow running hose, moving it around the canopy, or buy a $10 soaker hose and run that overnight. Click here for more info.
 Avoid bird window collisions: It's fall bird migration, which means more potential bird collisions with windows. Close blinds if birds are seeing through windows to other vegetation. Or we've found Window Alert bird decals very helpful for our reflective windows, found online or at bird supply stores. Because they're ultraviolet, birds see them, but they appear opaque to us, and come in attractive designs. Click here for more tips.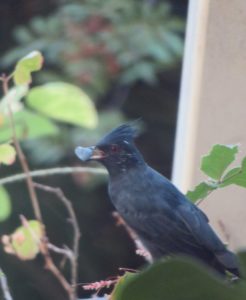 Provide water and food year-round: We've noticed a change in bird life with climate change. For example, the phainopepla, a cool-looking red-eyed bird normally found in the desert, now lives on our property year-round. Having a constant supply of berry producing plants has helped — toyon and privet in the winter, followed by California grape, Nevins' barberry and mahonia berries in the summer and fall.
Upcoming Plant Sales
Lucky for us consumers in Southern California, the upcoming plant sales make it easy to find a large selection of plants, including California native plants.
October 20:    Fall Plant Sale, 9am-4pm, Redlands Horticulture and Improvement Society, Prospect Park Plant Yard (next to the Carriage House), Redlands CA 
October 20:    Fall Garden Market & Plant Sale, 10 am –4pm(members only 8-10am) UC-Riverside Botanic Garden, University of California-Riverside, Riverside CA
 October 27:    Fall Planting Festival, 9am -4:30pm (members only 8-9am), Rancho Santa Ana Botanic Garden, 1500 N. College Road, Claremont CA 
November 3:   Fall Native Plant Sale, 9am –3pm (California Native Plant Society)  Riverside-Corona Resource Conservation District, 4500 Glenwood Drive, Riverside CA
Happy pondering and planting!