I'm always on the lookout for hikes that feature our area's rich California native habitat and wildlife — and Crafton Hill's Grape Street Trail in Yucaipa provides plenty of that. It's an intermediate trail that takes you up a not-too-steep hill to nice views and more trail options. In two hours I saw a roadrunner, waterfowl on the reservoir, a nesting red-tailed hawk, as well as butterflies and native bees attracted to the many blooming plants.
A group of citizens formed the Crafton Hills Open Space Conservancy to preserve 4500 acres as open space, and this trail is one of several in the preserve. What's especially nice about the Grape Street Trail is its 15 to 20 year old vegetation, which has missed the wildfires that hit the area during the last ten years, and attracts a variety of wildlife.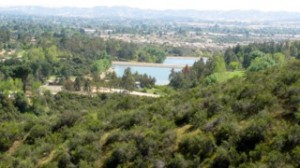 What I liked about this trail:
Blooming Plants: Crafton Hills features several species of California lilac, which do well in clay soils. These include the Woolly Leaf lilac (Ceanothus tomentosus), recognizable in spring by its bright blue blooms. According to Timothy Krantz, a botanist and environmental science professor at the University of Redlands, the Grape Trail also features a rare wild paeony. "It's one of only two species of native paeonies in North America. Our species, the Paeonia californica, is 'endemic' or restricted to the mountain foothills of Southern and Central California," he says. Another plant with blue booms and covered in many types of bees is the Phacelia cicutaria. According to Krantz, it's sometimes called 'fuzzy caterpillar' because the flowers develop in a form like a caterpillar. The Canterbury Bells is one of the several species of Phacelias in the Crafton Hills.
Rich birdlife: The reservoir attracts waterfowl, including wood ducks and killdeer. Others birds include roadrunners who are searching for lizards and snakes to eat, California quail and the California thrasher, a large mockingbird-sized bird with a curved beak. On the north side of the trail I heard the pleasant cascading song of the canyon wren.
Other wildlife: Watch out for snakes. Krantz, who also chairs the conservation's board, says rattlesnakes are seen on or near the trail. Be aware, he said, but adds they will let you know they're around. "They'll give you a polite buzz and get out of your way." (I've never seen a rattlesnake on my many hikes in the Inland Empire, though elsewhere I have.) See my prior post on rattlesnakes. Coyotes, mule deer are also sighted.
Guided hikes: Look on the conservancy's website for upcoming hikes. Krantz is leading a wildflower hike on Saturday May 18th, and since he knows his birds you'll likely learn about them too.
Distance/Trailhead
The trail begins on Grape Ave. one-half mile west of Bryant Street. (Grape Ave is about three-fourths mile north of Oak Glen Road.) Look for the trail in the open space on the left side of the street. In 15 minutes you're on the top of a hill with views of the Yucaipa Regional Park and lake in the distance. An easy trek takes you to the reservoir and to the intermediate Highway 38 Trail that traverses the hills. You can also link to the other trails in the preserve (Hilltop Trial and Park to Peak Trail). There are some signs but it's best to download a map from the conservancy's website below.
Note: Until Spring 2014, he trail by the reservoir is closed Monday through Friday 7 am to 7 pm due to construction by the Department of Natural Resources – but you can do the beginning part.
For more info:
Crafton Hills Conservancy website– www.craftonhillsconservancy.org
Grape Street Trail Map – see or the website above for a map of their other trails