As our California native plants grow and expand their footprint in our front and backyard, we've noticed increasing numbers of critters. They range from teensy millimeters-long bees to coyotes and foxes.
Why are native plants in a habitat garden so important? Here's a good Audbon article – but briefly, your area's native plants are the ecological basis for all insects that evolved with them, and we can't attract birds and other mammals without them. Insects are what parent birds feed their young, and many mammals also depend on them. These include bears eating berries, and possums eating ticks and most anything. Even fledged hawks can make it through their hunting lessons by surviving on insects.
Yet most people buy plants from big box nurseries, which mostly sell plants and trees from other countries. Their native insects are back in Australia, South America or Asia, except for an occasional nasty predator that grabs a ride and becomes a huge problem.
The most fascinating lesson for our habitat garden yard is the insects and animals now calling it home. Here are some examples, along with photos.
Berries, Insects — and Birds
Some of our best insect and now berry producers — and consequently bird magnets — are a berberis/oregon grape cultivar called Mahonia 'Golden Abundance', Nevin's Barberry and Toyon (Heteromeles arbutifolia). Toyon is common– also called California Holly or Christmas Berry, it's one theory for the Hollywood name as its red berries covered the Hollywood hills around the holidays.
Nevin's Barberry (Berberis Nevenii)– above — is a favorite –previously found on our local Southern California hillsides but drought and fire have removed them. Unfortunately, no one knows of one in the wild in our canyons. However, good news — our three 10+ year old ones are happy and even having babies, which is unusual. It took several years for the birds to discover the deliciousness of its red berries. Now, the mockingbirds, and jays constantly eat them.
They've even helped bring in Phainopeplas, a desert dwelling bird that has migrated to suburbia with the continuing drought. A Photo Gallery best tells the story — the fledgling mockingbird was begging and then flew over within feet of the Nevin's Barberry berries it craved.
A second Photo Gallery, including nesting Bewick's wrens and the many, many insects they require, the red-eyed Phainopepla pair, and assorted others.
Did you know? 96% of birds feed their young insects? Caterpillars and spiders are top choices.

Dr. Douglas Tallamy, ecologist and author
The Importance of Leaving it a Little Wild…..
Allowing a habitat garden to do its best for the critters means a plant might not look that great year-round. With native plants you can nix the bird feeders, because as seen below, goldfinches and other finches feed off our California native sunflowers, which bloom year-round in our yard.
But that means the flowers are rich with seeds when flowers are shriveled. I wish it wasn't right at the curb! But oh well, the critters win out. Although I remove some of the dead flowers, I leave many.
Our Important Bees – Tiny to Bumblebees
One thing that's been fun to watch is how our native plants attract so many bees, wasps and flies. A majority are native.
…. Did you know that California, the most biodiverse states, has 1600 native bees?
Many of these are active and vital pollinators. Here are a few we've discovered, including a tiny one in the cuckoo bee family. Cuckoo bees are fascinating because they lay their eggs in others bee's nests – like the successful cowbird. And of course wonderful Bumblebees – we see so many with our blooming manzanitas in December/January, then they move to our ceanothus and salvias. I'm a little worried – none in the last couple months.
Buy a Beebox for native Bees! (Below is a mason bee (I think, still learning) flying into its nest hole with nectar)
Bonus…. Wildcam Shots — what happens while we sleep…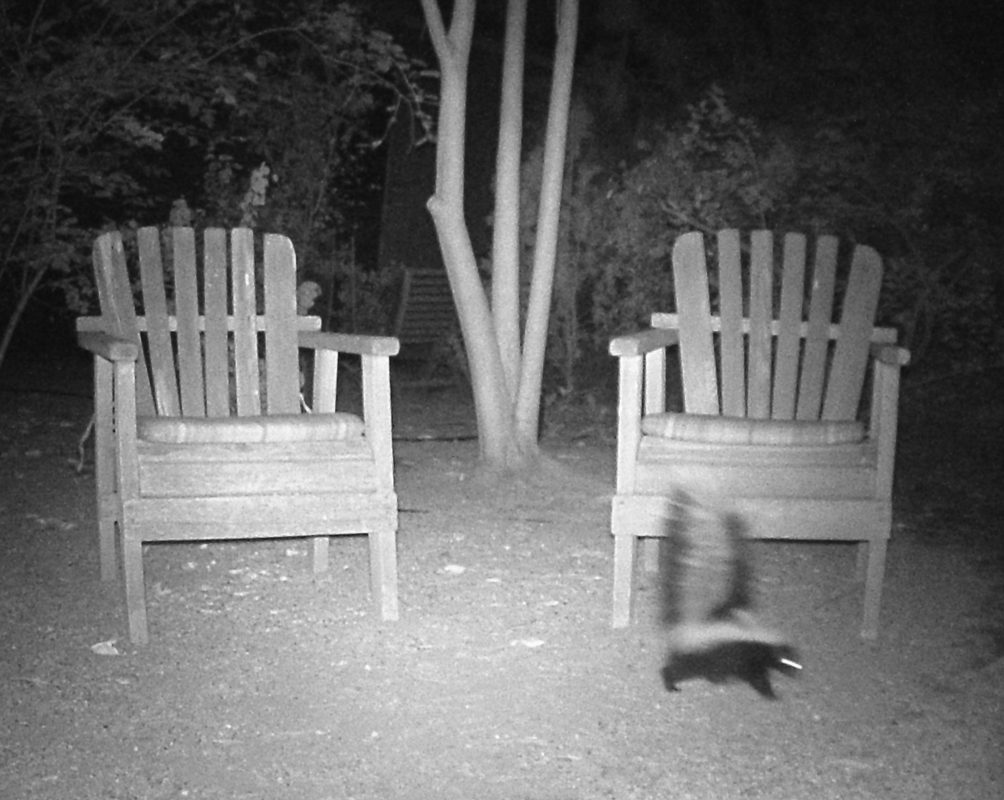 And lastly…. the Natural Predators Find Our Yard
We've also witnessed some 'circle of life' lessons. When they're natural, we're saddened but not too surprised. One was our mockingbird juvenile (the one featured in the first photo gallery) who refused to grow up — with negative consequences. His plaintive calls for food brought the attention of a local Cooper's Hawk, which, ended his plaintive calls. My husband Tom witnessed it. Not too fun.
Then we have the tachnid flies that are doing their natural thing, which is laying eggs on caterpillars so its larvae uses the caterpillar for food. Along with hornworms and not-as special moth caterpillars, this means our beloved Monarch caterpillars. Below is the result. But I'm happy to say we have a dozen fat caterpillars feeding on some native narrowleaf milkweed, which I've tucked under some other plants where the caterpillars can hopefully hide when they molt.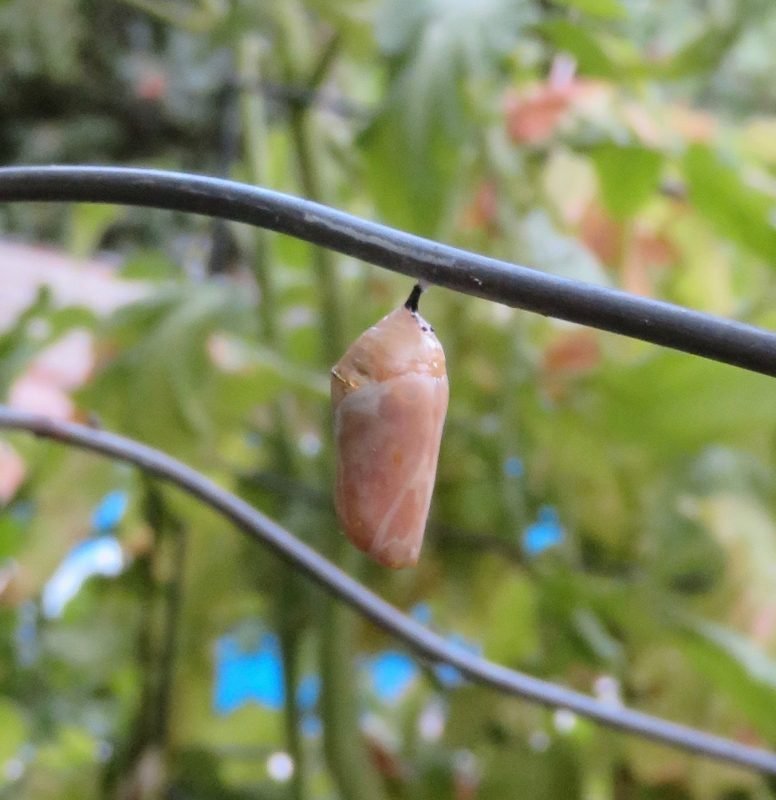 The hardest incidents involve neighborhood cats, let out of their homes with tummies full of food, who have also discovered our yard. They follow their instincts, killing a baby bird or rabbit in their yard, leaving it dead and uneaten. I am a huge proponent for keeping cats inside.
For more information: