9/5/14 Note: I've added an article on care of oaks during drought
I love our majestic old native oaks here in California. And like many, I get distressed when I see one dying, especially from improper care.
Background: There are nine species of native tree oaks in California – In SoCA most of our live oaks (called 'live oaks' because they are green year-round, not deciduous) are Coast Live Oak (Quercus agrifolia) or Valley Oak (Quercus lobata). Scrub Oaks and the rarer Englemann Oaks are common ones in our area.
But back to dying oaks. A neighbor's 40 foot oak tree die recently. Although they had removed iceplant around the trunk, an arborist surmised it was oak root fungus due to overwatering. The watering of their lawn, situated on a slope above the tree, drained towards it, plus a neighbor's irrigation water ran down the curb next to it. A double whammy. There's also a possibility that the Round-up, used to kill the ice plant underneath it, may have added to its woes.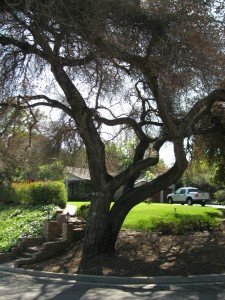 "Never introduce water to an old oak tree." Bert Wilson, Las Pilitas Nursery
I sit on our city's tree committee, so I hear about many oaks that are in trouble. Undoubtedly, discussion includes whether they're watered too much, too little and what's planted underneath. But in the meantime, I wanted to share some guidelines suggested by oak experts.
1. Don't use rocks directly around the base of oak trees. Rocks will retain moisture around the trees crown and collar and could potentially kill the tree through drowning or through fungus. Only use mulch around the oak tree base.
2. Mature oaks in the summer need no water in summer and little the rest of the year. An oak tree's growth begins in late winter after the seasonal rains. Watering in the summer may cause root fungus. (Gradually reduce the irrigation that is watering oaks; any grass might die but should not be under oaks anyway. Only water oak trees in the winter if it has been an unusually dry year.)
October 2013 addition: With our lengthy drought, please see this updated article "Taking care of our oaks during drought – There are different opinions on mature oaks that have been receiving irrigation. The late Bert Wilson from Las Pilitas Nursery says "if a mature oak has been watered for most of its life, keep watering; if watering was a recent introduction, remove it over a period of a year or so. NEVER introduce water to an old tree."
3. Avoid planting under the oak's canopy. If you need to plant something, use plants that require similar soil types and water requirements; for example, native plants such as Currants (ribes species) or coral bells. Las Pilitas has a good website page on this.
Las Pilitas' Wilson recommends people remove non-native plants, including weeds, from under the native oaks. "This makes a dramatic difference.They should not disturb the soil when they remove them, i.e., cut them off at ground level instead of digging them out."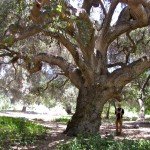 Oak at Rancho Santa Ana Botanic Garden (Claremont CA)4. Mature oaks need no pruning – and need their foliage to support their great bulk. If some is necessary, avoid pruning more than 10% of the green from your oak. (Long-standing industry standards put the ideal annual foliage removal for large mature trees at 5%).
5. Pruning is best in late summer into fall— during the trees dormant season. A local arborist here in hot inland California prefers fall and even early winter because foliage removal during extreme heat heaps one stress on top of another.
6. Oak trees can get sunburn too. Never remove all of the green foliage from the branches since the trunk and main branches will get sunburned.
7. Avoid azaleas or rhododendrons near your oaks. Besides requiring different soil types they can transmit fatal diseases.
For more info:
– Great book: Oaks of California, Cachuma Press
Most large oaks in our area are Coast Live Oak (Quercus agrifolia) or Valley Oak (Quercus lobata). Englemann and Scrub Oaks are also common.