I've had a number of queries regarding the proper watering of native California oaks during this drought. I wrote an article on Oak Tree Care in 2012, and most is current, but I wanted to re-tap some experts for tips during this drought. So along with a quick review and some good and bad pruning examples, here you go.
Water this Winter if Drought Continues
Think of oak trees in the wild. They exist on natural rainfall, with growth slowing during the late summer heat. The normal recommendation is to not water them in the summer months, and only provide water other seasons during unusually dry periods. With our ongoing dryness, I checked in with native plant expert Bart O'Brien, now the director of a prominent native plant botanic garden, the Regional Parks Botanic Garden in northern California. Here are his recommendations for recently planted oaks and old ones.
For long-established oaks, O'Brien suggests deep watering in winter through early spring during periods of drought. So unless, we have an El Nino that brings in considerable rain, consider extra watering this winter. "Luckily, this time period is when landscape use of water is lower during winter, and it provides these majestic trees the water they need when they can actually use it," O'Brien says.
Most experts agree that water should never be introduced to an old oak in the summer, especially for trees that did not grow up with summer water, because it may encourage root fungus diseases that are often fatal. The late Bert Wilson of Las Pilitas Nursery, a native plant nursery in Escondido, recommended that if your old trees have received irrigation water most of their life, keep the same regimen. But, if watering was a recent introduction, remove it gradually – over a period of a year or so.
Also, check the irrigation spray in your yard. It's important to avoid spray hitting the trunk. And because water at the base of the trunk causes most root diseases, avoid watering six to eight feet around the trunk of a mature oak tree.
Watering with Newly Planted Oaks
If you have an oak that you or a previous owner has planted O'Brien provides slightly different guidelines:
For an older tree – 15 plus years – that has been in the landscape for years, continue the irrigation regime that the tree has grown up with as that is what it has adapted to
For younger trees, keep in mind that you can get a newly planted oak to adapt to drier conditions
Water new plantings – You will have to water a newly planted oak for at least a few summers before it will survive with minimal to no summer water, says O'Brien, adding that the size of the tree when planted, and your soil conditions play role. For example, a tree planted in clay soil will require less water.
Underneath your Tree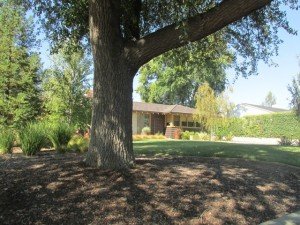 Leave the oak's natural leaf litter – it's the best possible mulch. Microorganisms in the layer where the oak leaves meet the soil protect the oak from diseases. Also, the leaf litter provides important habitat for numerous insects that birds depend on, helping make oaks a keystone species for healthy ecosystems.
Avoid planting under the oak's canopy – or use associated native plants. If you need to plant something, use plants that require similar soil types and water requirements; for example, use native plants that are normally associated with native oaks, such as Currants (ribes species)or coral bells. Las Pilitas has a good website page on this, which lists 20 good choices.
Avoid azaleas or rhododendrons near your oaks, as their different soil requirements can harm the tree.
Remove non-native plants, including weeds, from under the native oaks. The late Bert Wilson said in an earlier interview that this makes a dramatic difference."People should not disturb the soil when they remove them, i.e., cut them off at ground level instead of digging them out."
Don't use rocks directly around the base of oak trees, as the moisture they retain can kill the tree through drowning or fungus.
Avoid soil compaction, especially during heavy construction – click here for more info
Pruning: Little to None
Mature oaks need no pruning. If some is necessary, never prune more then 10% green out of your oak. Certified arborist Paul Chaney uses long-standing industry standards to not exceed 5% annual foliage removal for large mature trees, so that's one branch out of 20.
Oak trees can get sunburn too on their trunk and main branches, when too much green foliage is trimmed. Pruning is best in late summer to early fall but arborists in hot areas prefer cooler months. "I like to wait until later in the summer, or early fall, because foliage removal during extreme heat heaps one stress on top of another–and that can't be good," said Chaney.
Never top oaks. These abnormal cuts on main branches create weak branches, and the oak can never get back to its majestic shape.
Here are some pruning examples:
For more info:
Native Oaks in California (Las Pilitas website) – list of oaks
Great book – Oaks of California by Bruce Pavlik, et al