Once in awhile, I can't ignore writing about significant news about our Earth's woes, which are caused by we humans. The occasion is yesterday's publication of a article Approaching a State Shift in Earth's Biosphere in the journal Nature.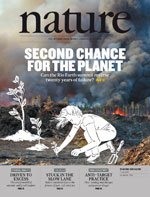 Before you stop reading, I do include some positive ways to help below…
The report's 22 scientists, from a variety of fields, project that the continuation of three major trends may push the Earth to a tipping point:
the exploding global population
rapidly rising temperatures, and
the clearance of more than 40% of Earth's surface for urban development and agriculture.
My previous posts have gone into more detail on the loss of biodiversity ( see Helping Ourselves through Conservation) and rising population, now 7 billion and expected to reach 9.3 billion (see Educating Women – the Most Effective Population Control). And whether we believe global warming is human-caused, the increased CO2 rates are making the ocean less hospitable, while the fragmentation of natural areas are affecting the forests that provide clean water and the insects that pollinate crops.
The most chilling part is how scientists in the 60s and 70s predicted this, with one of the paper's authors saying:
"We've never been quite sure when it would happen. We're there now." We've never been quite sure when it would happen. We're there now." Mikael Fortelius, PhD
Solutons the 22 scientists call for include:
Reduction in world population growth and resource use per person (in other words, leave a small footprint)
More efficient energy use with less reliance on fossil fuels (which are increasing CO2 rates)
Protection of Earth's remaining lands/waters which have escaped human dominance.
Here are a few of my own:
When you vote, consider the environmental records of politicians, and emphasize the importance of those to elected officials.
Support land conservation groups, particularly land trusts whose mission is to protect land. See Land Trust Alliance for U.S. land trusts near you. There are many others, including the Nature Conservancy and Rainforest Alliance for international conservation.
Do what you can to leave as small a footprint as possible, such as use resources conservatively and use practices to co-exist with our natural world.