Kudos to the Los Angeles Times. Last Friday they pushed another important subject into the public arena in their editorial "Ban super rat poisons."
I've been gathering info to write another post on the dangers of the stronger second-generation rodent poisons (see earlier post here). Briefly, here's the latest news on this problem: One manufacturer — Reckitt Benckiser — of the second generation of poisons, refuses to withdraw its d-CON products despite the EPA asking manufacturers to restrict their availability.While other manufacturers have agreed to pursue safer products, Reckitt Benckiser has initiated an appeal process that will likely delay a decision for years. And while some smaller stores have removed them, the corporate hardware stores such as Lowe's and Home Depot won't remove it until they have to (Note: I asked an assistant manager of a local Lowe's why they had to wait until their corporate office told them to remove d-CON when it was a moral decision to remove it now. He replied that they don't make decisions based on moral reasons…..)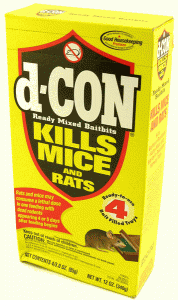 The collateral damage
First, there's the human risk: the LA Times article cited 15,000 calls to poison centers from parents whose child under 6 was exposed to rodent poisons.
Second, there's the risk to our pets and wildlife:
A few months ago a friend shared how she spent last Thanksgiving. She took her two dogs to an emergency vet to have their stomachs pumped after they got into her mother's shed where d-CON rat pellets were stored (they survived). I've interviewed researchers and wildlife biologists who have shared shocking statistics about hawks, bobcats and coyotes dying from eating animals exposed to it. See my earlier blog (link above)
Background: These second generation poisons are also called anticoagulant rodenticides (AR) because they prevent the blood from clotting. Professional exterminators rely on them because because they are effective. They were developed because rats acquired tolerance to the first-generation rodenticide, warfarin.
But, good news, more word is getting out
This recent Audubon magazine article Building a Better Mousetrap (Jan/Feb 2013) delved into the effect on wild birds and other wildlife — and created a stir.
I've had some email correspondence since late 2011 with Tuft University's Dr. Maureen Murray whose raptor research opens the Audubon article. Last summer Murray was having trouble getting funds to continue her research but she did get a proposal funded by the Animal Welfare Institute and is now collecting samples.
What You Can Do
Do not use d-Con, Hot Shot, Generation, Talon and Havocs – the EPA has determined that anticoagulant rodenticides pose an unreasonable health and safety risk to c hildren, pets and wildlife. Discourage family and friends from using second generation
If you see these products, encourage your local stores to remove them. The second generation chemicals are brodifacoum, difethialone and diffenacoum.
The best way to prevent mice and rats is to caulk and screen any openings around your home or building. And keep food in air tight containers.
Use traps instead of poisons.
Consider getting a barn owl box to attract an effective, natural rodenticide.
More research papers and websites:
I wrote a rodenticide series, including this one on deleterious effects on wildlife.
Anticoagulant Rodenticides on our Public and Community Lands: Spatial Distribution of Exposure and Poisoning of a Rare Forest Carnivore – This showed nearly 80% of fishers, a medium-sized mammal in the weasel family, had ARs in their systems.
Association between Mange and AR Exposure (Dec 2010, Journal of Wildlife Management) – Abstract for the research "Anticoagulant Exposure and Notoedric Mange in Bobcats and Mountain Lions in Urban Southern California" by Seth P.D. Riley, et al – Anticoagulants were present in 90% of babcats tested! Mange-associated mortality in bobcats showed a strong assocation with AR exposure,
Raptors are the Solution (RATS) website – Lisa Owens Viana began this group after two juvenile Cooper's hawks tested positive for brodifacoum that were found in her neighbors pool. (Dying animals will drink water to replace their lost fluids)
I'll definitely be writing more on this topic… please help get the word out.