No doubt, many of us are feeling increasingly cooped up. What better fix than a little open space and soothing nature. It sure is for me.
You can find more info and photos about five of my favorite local hikes below and for others in the Southern California by clicking on the Other Topics tab above.
Here are five favorite natural areas, beginning with three Redlands Conservancy preserves. All should contain enough space and trails to keep distance from others during our ongoing pandemic, especially on weekdays. I prefer places with California native plants because of the wildlife they attract. For example, our native oak woodlands that are common in each area are the hosts for dozens of butterflies and moths, and provide homes for beneficial insects, and in turn birds, mammals, and reptiles.
Caroline Park, Redlands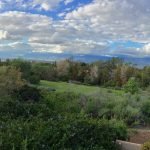 Nearly 17 acres, this underused park, the former backyard of two sisters in the Phelps Dodge family, was donated to the City of Redlands in 1929 by Caroline Phelps Stokes after her sister Caroline died. She stipulated it remain as natural as possible.
Features: Great overlook of our mountain ranges. Trails, with interpretive signs explaining some of the park's California native plants. Check out the sloping meadow on the east side, great for picnics, frisbee and enjoying the views.
Access:  Parking is available in the pullout off Sunset Drive, also along Mariposa and Poppy on the lower end.
For more info about Caroline Park, click here.
Herngt "Aki' Preserve (Oakmont Park/Live Oak Canyon), Redlands
More than 340 acres, so plenty of space to spread out. This preserve begins with Oakmont Park and picnic tables situated under oak trees. Beyond you can access multiple trails. Rattlesnake Trail offers an immediate uphill climb to view the San Timoteo Canyon, or you can explore the easier Prairie Trail that gives you more options.
Features: Uncrowded, good for biking, nice picnic area.
Access: Parking lot at the corner of South Lane and Sutherland Drive
For more info, click here.
San Timoteo Nature Sanctuary, Redlands
As you explore the 200 acres that lie along the San Timoteo Creek, recall this area's history, with trails dating back to an ancient American Indian trail, and the Carriage Trail built by the Smiley brothers.
Features: a soothing running creek, flat terrain for easy hiking, good for bikes and horses too
Access: Parking is on the west side of Allesandro Road, south of Sunset Drive and north of San Timoteo Canyon Road.
For more info about San Timoteo click here.
Wildwood Canyon State Park, Yucaipa
This underused gem, all 900 acres, survived the recent fires. Aside from many trails with flat areas or uphill terrain, it features two historic homesteads, habitat-friendly oak woodlands and chaparral, and great wildlife sighting. Besides good birding, I've seen fox, deer, coyotes, a bobcat catching a gopher and a rare snake (no worries, they scurried away).
Features: Wildlife, beautiful views, solitude. Check out the former homesteads – the Hunt House and the Hi-Up dating to the mid-1900s. Popular for horseback riding.
Access: The parking lot is on Canyon Drive, which is a left (north) turn off Wildwood Canyon Road,  just past the City of Yucaipa's Wildwood Park.
For more info about Wildwood, click here about Hunt homestead and here on wildlife and here on other things I love about Wildwood. It's probably obvious I love this preserve.
Oak Glen Preserve, Oak Glen
This 900 acre Wildlands Conservancy preserve also miraculously survived the recent fires. It offers so much beauty, education, and variety for all ages, plus trails that range from an easy stroll to the pond overlook to the steep Preservation Point hike.
Features: Love the changing feel in the four seasons, ponds with ducks, picnic areas under mature trees, open 8 – 4:30.
Access: At the top of Oak Glen Road, turn into Los Rios Ranch (the buildings burned recently but the preserve is intact). The preserve access and visitors center are off the side parking area.
For more info about Oak Glen Preserve, click here about its beauty, and  click here for a steep hike to Preservation Point.