As for many in California, the numerous days of 100+ degree heat has been tough on our vegetable garden, roses, fruit trees and well, pretty much everything (including ourselves….)
But we continue to have some plants – mostly California natives or their hybrids – that look good despite little to no water. Being natives, they also provide the best habitat for our local insects, birds and butterflies.
The following should be planted in fall through early winter, which allows deep roots to get established before the heat arrives. Also, water all these heavily at planting and they will need water or rainfall — weekly to start, then twice a month — the first year or two.
Since they can be hard to find, I include nurseries in Southern California that usually carry them, along with how much water I've given them once they're mature. Many of the accompanying photos were taken on our recent 100+ degree days.
Sunny Favorites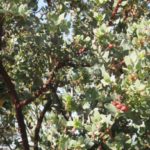 Manzanitas: We planted several types of manzanitas (Arctostaphylos) eight years ago, and all have done great. You can buy varieties that are short and spreading, or others that will eventually tower twelve feet high. All feature bark of varying reddish colors and leaves that range from bright green to gray. Click here for more on manzanitas.
Many people say they've tried manzanitas unsuccessfully. It's important to plant them in the fall and water deeply the day you plant. Aside from rainfall, we now supplement with water at most once a month if rainfall is slim during the winter, but none in the summer months.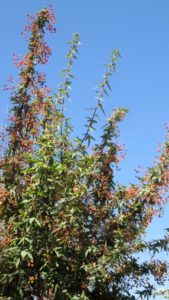 Nevin's Barberry (Mahonia nevinii) is another favorite shrub and looks good year-round despite very little water.  It's native to our area, grows quickly and features yellow blooms in the early spring and red berries in summer. Its leaves are prickly and it spreads wide, so keep that in mind in placement. Here's more on this plant.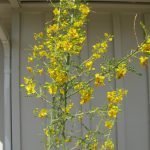 Palo Verde: For trees, the Palo Verde is stunning with yellow blooms much of the year. We have the popular and thornless Palo Verde Desert Museum hybrid, named for the Arizona-Sonora Desert Museum in Tucson.
Buckwheat (Eriogonum) is a staple in our garden for attracting insects and butterflies. Three varieties that look great with a monthly dose of water are St. Catherine's Lace (Eriogonum giganteum), Santa Cruz Island and Eriogonum Warriner Lytle. St. Catherine's Lace is large and its flowers are stunning in flower arrangements, while the Warriner Lytle forms a wide, low-lying mound with small dainty flowers. Santa Cruz Island is even more compact. Click here for more on buckwheats.
Our Favorite Buckwheats (photos taken in late June)
Others: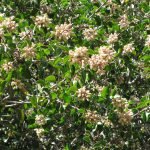 We also have several old Sugar Bush (Rhus ovata) that survive on no supplemental water. While one aged 80+years tops 20 feet, they typically grow to four feet in several years.
Flannel Bush or Fremontia

If you have a sunny large area that receives no summer irrigation, consider Fremontia (Fremontadendron California Glory), referred to as flannel bush. Want more info? Click here.
This Feltbush branch broke off a heavy potted plant a month ago and seems to be rooting

Another succulent is Feltbush (Kalanchoe Beharensis), also called elephant's ear kalanchoe, a stunning plant that needs little water and some shade. In a pot it has gotten top-heavy and broke off, so might do better in the ground. Grab this one if you see it at plant sales or get a cutting from a friend.
Shade Plants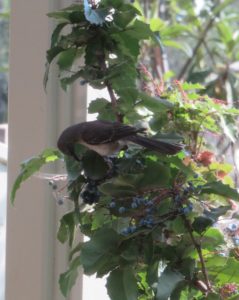 Our favorite shade plant is Mahonia 'Golden Abundance' which right now features large blue berries that birds love (and yellow flowers in early spring). It tolerates shade in winter, and some sun in summer, and is doing well on our home's north side.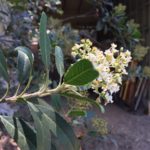 Toyon (Herteromeles arbutfolia), also called Christmas Berry because of its winter red berries — or California Holly and the reason for Hollywood's name, some say — makes a nice thornless substitute for Pyrocantha. It grows tall but can be hedged.  It does better in part-shade.
We prefer California native salvias or sages, like Cleveland Sage, Black Sage or Purple Sage because they require less water than salvias from other countries. Still, they do better with a little more water so are better in areas that receive some shade or more irrigation. Sage varieties range from low groundcovers to large shrubs. Click here for photos and more info on salvias.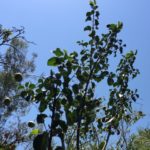 Hollyleaf Cherry (Prunus ilicifolia), named for its red edible berries, is another beautiful shrub for part-shade. After six years, ours is six feet tall by several feet wide and will grow even larger.
Where to buy
Nearly all of these can be found at San Juan Capistrano's Tree of Life Nursery or Claremont's Rancho Santa Ana Botanic Garden. Inland, Riverside CA's Mockingbird Nursery, specializes in native plants at low prices, and Louie's Nursery and Parkview Nursery in Riverside carry some, especially Toyons, Salvias, and several varieties of Manzanitas. Cherry Valley Nursery in Cherry Valley features Palo Verdes, Toyons, Manzanitas, and a wide variety of Salvias.
Also check out the Theodore Payne Foundation in Sun Valley and the UC-Riverside fall plant sale (along with other native plant sales this fall).