I admit to not reading some environmental news because it can get so depressing. So, here's some recent positive news, including two in California.(2018 update: I just added another one regarding suspending the killing of federal wildlife.) One thing I do appreciate about living in California is the state is a leader in environmental thinking.
http://www.projectcoyote.org/another-california-county-suspends-contract-with-federal-wildlife-killing-program/
California to Remove Hazardous Rodent Poison from Retail Sale
I've long written about this issue – (a couple of them are Rodent Poisons and our Ailing Wildlife and What Communities are Doing – about the negative effects of rodenticides on wildlife and pets.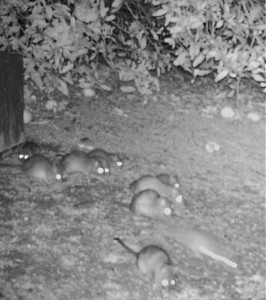 Thankfully, in late March, The California Department of Pesticide Regulation announced that it is designating the most hazardous rat and mice poisons as Restricted Materials, which will remove them from consumer sales beginning July 1, 2014. D-Con is one of the more popular names of these anticoagulant poisons. Much research has shown wildlife and pets are getting ill and dying from eating the affected rodents. There are still poisons out there, such as nerve toxins, which also show similar effects, but this is a positive start.
La Jolla Seals Protected during Winter Pupping Season
The Children's Pool in La Jolla has been a volatile issue for a long time.
A little history first: In 1931 philanthropist Ellen Browning Scripps funded a sea wall project to create a Children's Pool, a protected place where children could play and swim. Scripps gave the completed project to the City of San Diego and the gift was confirmed by the California Legislature, and signed by the Governor in 1931, saying the lands should be devoted exclusively to "public park, bathing pool for children, parkway, highway, playground, and recreational purposes." The problem was Seal Rock, located 100 yards north, long home to seals. In 1999 it was first documented that seals hauled out onto Children's Pool beach and gave birth to the first pups. Since then, the seal population has increased in all of California, seals liked the safe, secluded Chidren's Pool beach — and the conflict began. Some want the seals excluded for the original use, others, of course, take the side of the seals. I've often thought they should allow co-existence, though it does create safety issues.

There have been many votes and lawsuits on the issue. The latest is on February 24th, the San Diego City Council voted 6-3 to approve the annual beach closure during the winter pupping season from Dec 15th to May 15th.
United Nations Bans Japan's annual Whaling Drive
On April 1, the United Nations' highest court voted to ban Japan's annual whaling drive off Antarctica. This is considered a hard-won victory for conservationists, who have long argued that Tokyo's whaling research is a cover for commercial whaling. The presiding judge, Peter Tomka of Slovakia, said that the latest Japanese program, which was expanded in 2005, had involved the killing of thousands of minke whales and a number of fin whales, but that its "scientific output to date appears limited."