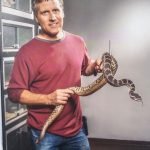 Note: This event occurred but see below for a resource list and previous articles.  
"Co-existing with Rattlesnakes" (and other snakes) is a webinar that is happening tomorrow – Saturday, March 13.  Unfortunately because of copyrighted info, we cannot post the webinar. I've written much on this topic so please see links to the articles below. Dr. Hayes may be able to share it with you, as long as it's not posted online. Contact him at whayes@llu.edu
and include 'webinar' in your subject line.
Below is info about the talk and also a resource list  (including dog trainers for rattlesnake avoidance, and people willing to relocate rattlesnakes.) We will also be updating the resource list. If you have something to add, please comment below or contact me.
Living with Snakes – Really!
A Free Webinar with Dr. Bill Hayes
They're back — it's spring and rattlesnakes are coming out of hibernation! On Saturday, March 13 from 3:30 to 4:30, Dr. Bill Hayes, Loma Linda University herpetologist, presents a free zoom webinar "Coexisting with Rattlesnakes" all about snakes in our region, and answers your questions.  Dr. Hayes' program explores the secret lives of snakes – how they live in their environment and ours, and how they use their venom to survive.  He will also provide insights from the latest research that will dispel widely held myths perpetuated by fear and misunderstanding. Dr. Hayes is a professor of biology and the director of Center of Environmental Studies and Stewardship at Loma Linda U., and has studied snakes in our region since 1996.
First, some snakes found in SoCA:
Resources
Dog Training:
Rattlesnake Avoidance Dog Training  by Natural Solutions provides trainings in CA and Oregon
Animalia Herpetofauna Rattlesnake Dog Training (So CA)
Rattlesnake Relocators:
In the Temecula/Fallbrook area, you can contact DeLuz resident Joann Mitcham (who is a co-host of Dr. Hayes' talk) and has relocated many rattlesnakes: Home -951-695-5666, cell-619-980-3305 or email – mitchmitcham@verizon.net
Rattlesnake Relocation  -a previous article interviewing Dr. Hayes on relocating rattlesnakes
And more on Rattlesnake Relocation  plus even another on relocation and a a research bibliography
Animalia Herpetofauna Rattlesnake Removal (So CA)
Other:
CaliforniaHerps.com – photos of California snakes
More about Dr. William Hayes
Video of Dr. Hayes with some live snakes, etc, including a Southern Pacific Rattlesnake
Previous Articles:
A Synopsis of a previous Dr. Hayes Presentation -includes photos of So. CA area snakes
And more on Rattlesnake Relocation  plus even another on relocation and a a research bibliography
More on Rattlesnakes: Questions and Answers
Protecting my Dog Against Rattlesnake Bites